I loved "Ruh Roh" and I feel Aidan just took me by the shoulders and said "Run!" because I need to save myself from the possible disappointment that there may not be a fourth season of Being Human.
I don't like networks messing with my mind and although there were numerous cliffhangers here and a lot to work with next year, there was also a feeling of peace among Aidan, Josh and Sally that left me feeling a little bereft.
So, we'll just carry on and chat about the show as always! Soldiering on, as they say.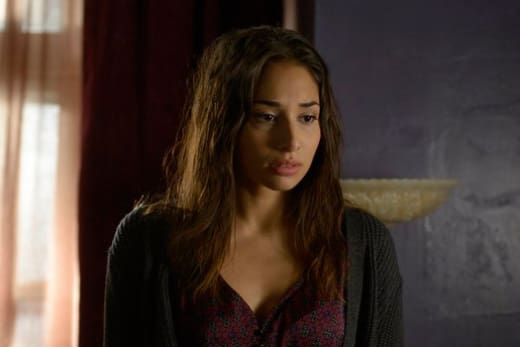 We picked up right where "Always a Bridesmaid, Never Alive" ended - and if we were expecting Liam to have some enormous reason for stalking the newlyweds to the cabin, we were wrong. He went to tell Josh and Nora the werewolf blood was a curse and not a cure for the vampire virus. That wasn't anything Aidan hadn't probably already figured out on his own, but didn't think highly enough of to spoil their wedding day. Liam? Eh, who cares. Josh, you're my blood now, made by me, a purebred. It's a gift! Ramble, blah, shut up Liam.
Just to prove he was right he took them to a pack of newly created vampires who looked just like the babies Aidan created and then locked them in the room with them after Nora announced she had killed Brynn. Ultimately, what this little battle of wits did was make Nora realize she wasn't imagining things when she looked upon Josh differently. He may have not had the opportunity to kill his maker (Aidan did that), but would he have wanted to? Josh admitted that all that hokey pokey meeting-his-wolf stuff with Pete changed something in him and he felt differently about his fate this time around.
Honestly, I thought it was for the best anyway. Even Aidan and Sally saw that clearly. It's just better when two people are alike. No secrets, no need to compel people out of calling the police to report the increasingly mounting number of dead bodies in your townhouse.
I'm not sure why Sally's rotting corpse was still lying on her bed, but there it was. She had even taken to lying beside herself as some sort of catharsis and talking things over with herself. It was a bit odd, but maybe after being dead twice, it was working for her. Not so much for Kat, when she stumbled in on Sally. Still though, she never asked why she died or how or any of the usual questions someone would ask. It was funny that Sally was giving Aidan some cues such as, 'tell her I was a shut in!' After everything she's been through, Sally has never lost her sense of humor.
Aidan, having no friends left in the city, used Blake to compel Kat into forgetting what she saw. They didn't address what would happen when the police showed up, because Kat said she already called them. Maybe Aidan is better at compelling people he doesn't love. Aidan also didn't use his time with Blake to warn her about the werewolf blood and the mutant children. I'm sure she realized it by now, but some clarification on the point might have been in order.
As for Kenny, the poor little bastard, he had no idea what was going on, but did trust Aidan when he told him he didn't know it would happen. Aidan admitted to Sally that he thinks it's drinking more blood after taking the cure that causes the mutation, but I'm not so sure. Being foolhardy seemed more of a guilty conscience than a technical reason that the mutants were being created. As Liam was trying to kill Aidan and his son for punishment against his own family, Aidan got Liam and he died. While nobody was looking, Kenny was sucking the life out of Nora out of sheer hunger. 
Kenny was brand new and didn't mean to do it, which sent Aidan back to a vision of his past when the townsfolk killed his wife, Suzanna, for being with the 'devil.' They paid dearly for that mistake as he mirrored what Kenny said about what he did to Nora. "I wasn't myself back there." Aidan knows what it's like not to be yourself in a moment of passion. So he let Kenny run like hell and get away before he took his life, forgiving him the sin he was unable to stop on his own.
Where does this leave us dangling at the end of Being Human season 3?
As Aidan walked down a city street, a cab pulled up behind him and a Suzanna doppelganger got out. Had she been turned when she "died" or was she a distant relative by way of Aidan's son?
Will the cops ever show up at Kat's and what is going to happen then?
Josh had his first change since he became a wolf again and while Nora woke up all naked and perty, Josh was still a total wolf, and not the beautiful one from his mind. What now?
Donna is connected to Sally because of the fire, and knows some secret she can use within the house in the original spot where Sally died the first time at the bottom of the stairs. She appeared to drag her to hell. Not a clue was left behind. Will anyone even know to look for her?
Yeah, these are big items left for another season, and stories I want to see played out. I'll be here if the show gets renewed. Will you? What are your hopes for a fourth season? I wouldn't mind more shirtless shots of Aidan and a full shirtless of Josh. What's with the halfsie we got tonight? He didn't even wake up naked after turning. Sheesh.
Carissa Pavlica is the managing editor and a staff writer and critic for TV Fanatic. She's a member of the Critic's Choice Association, enjoys mentoring writers, conversing with cats, and passionately discussing the nuances of television and film with anyone who will listen. Follow her on Twitter and email her here at TV Fanatic.