Family comes in many forms. It can be gracious and loving or cruel and manipulative. "Let Me In" showed all sides. 
John Ross moved back in to Southfork, once again giving viewers the deliciously dysfunctional set up of multiple adult members of a family all living under one roof. It's one of the things that has always made Dallas such fun.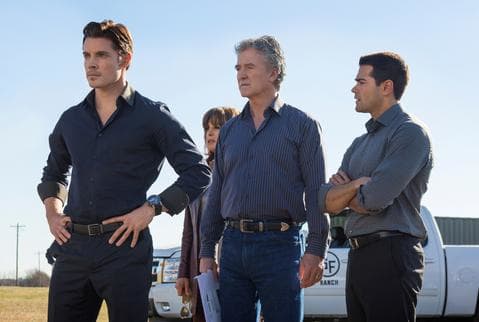 But Bobby was gracious as he gave his nephew a photo of J.R. and John Ross when he was just a boy and welcomed him home. Miss Ellie wanted John Ross to have half of the ranch and Bobby has always respected his momma.
Bobby encouraged the boys to wait for TESHA to conclude its investigation into the explosion on the methane rig, hoping that they would uncover the saboteur. Talk about wishful thinking. Instead, they found that Ken Richards had been silenced, Ewing technology was blamed and Ewing Energies was hit with a $1 billion fine for environmental damage.
So much for insider information. Christopher found Ken and made a scene but I far preferred how Sue Ellen handled things as she told Ken that if Christopher had strangled him she would have done nothing but sat back and watched the show. Then she added in this Dallas quote…
When the Ewings unite nothing can stop us. You're either on our side or you're among the casualties. | permalink
Thankfully, Ken chose the right side. Now we know that Cliff, Ryland and the Governor are all out to destroy Ewing Energies. Man, this family has certainly made its share of enemies over the years. 
Across town, Pamela was alone and grieving for her unborn children. Afton went home and Cliff sent flowers. Pamela was certainly on the losing end when it came to having loving parents to count on. 
Christopher was too guilt ridden to even check up on the mother of his children. Thank goodness she had John Ross, even if he did go over to gather information on her father. He obviously cares about her and she needs someone. 
John Ross: I ain't going anywhere until I know that you're OK.
Pamela: You'll be here a long time. | permalink
I can only imagine what her reaction will be when she finds out that her father was behind the death of her babies. 
Speaking of losing out in the parental lottery, I have a whole new level of sympathy for Emma. No wonder the poor girl is such a mess. When a horse injured her as a child, Harris killed the horse and made sure she knew it.
Now when Emma was defiant enough to date the wrong guy, Daddy had him beaten, took her to see it and threatened to have him killed if Emma didn't fall in line. I didn't think my opinion of Ryland could get any worse after he admitted to stealing 18-month old Emma from her own mother. Yet, he managed to prove me wrong. The man is truly a monster. No wonder he and Cliff are working together.
But Ryland really should reign in his horrifying control issues. From the look in Emma's eyes it wouldn't surprise me if she were the next person to put a bullet in his chest. 
Now that their oil pipeline has been shut off and Ewing Energies is on the line, I can't wait to see how the Ewings circle the wagons and fight back. The only question is, who will be among the casualties?
C. Orlando is a TV Fanatic Staff Writer. Follow her on Twitter.