The Americans Review: No Happiness in the Cold War

Carla Day at .
The Soviet Union was the number one enemy of the United States, but while watching The Americans it's easy to forget that. Even though the Jennings are undercover KGB spies and were taught to fight against America, it's often difficult to hate them. They are individuals, a couple, and parents raising two American children that are also capable of friendship and love.
"Covert War" was on the face about the escalation of the violence between America and the Soviet Union during the Cold War, but really it was about the personal cost that affected those on both sides of the war. No one was safe from suffering the emotional strain of their job, regardless of if they were American, Soviet, or living a life in-between.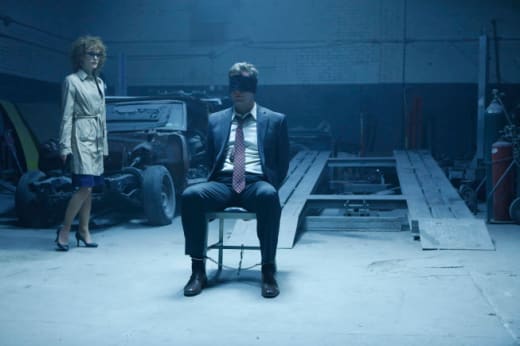 The Americans isn't a big picture, epic look at the Cold War or what it is like to be a spy. Instead, it succeeds because it's based on the micro view of that world. We see the war through the eyes of Elizabeth, Philip and Stan. This is their life and it comes at a great loss. No matter which side wins the Cold War, these three individuals have lost and lost big. And, they aren't the only ones. Each individual killed, their loved ones, and everyone else that had to make a life or death decision, they have all lost.
Elizabeth loved General Zhukov and when he was killed, she took it personally. She couldn't separate the impersonal Cold War from the grief she felt for losing one of the only people in the world she trusted. Even though Grannie told her to stand down, Elizabeth couldn't do it and recruited Philip to help her. He tried to talk her out of taking revenge, but her pain was too great.
Just as Philip stood by her decision to defy orders and let Gregory go, he agreed to help her. Why? He loves her. She was going to go after Richard Patterson whether he helped her or not. And, if she did it alone, it put her and their family at greater risk. Their future is bound together by job and love even if Elizabeth can't see that. 
After Philip sided with her about Gregory in "Only You," I thought the Jennings would get back together, unfortunately that didn't happen. If she recognized his love for her, perhaps she wouldn't have felt so alone after Zhukov's death and would have been able to think things through more clearly. Since that didn't happen, Philip got time with his kids at his crummy apartment with vending machine food for dinner, while Elizabeth partied with Sandra. 
"Covert War" showed that the pain and suffering hit both sides on a personal level. Stan feels horrible about betraying his wife with Nina, but even though he tried to stop the relationship he couldn't. It wasn't about the sex; it was about the shared suffering. Stan can't talk to his wife about his work or the stress that he faces, but he can discuss it with Nina. His relationship with his asset is an emotional release that he can't get anywhere else.
Nina believes that "Family is everything." She understood if he needed to be with his wife, but couldn't push him away when he came to her. She has no one else but Stan. It's a sad and lonely life that they live with or without a family. Their suffering makes what the Jennings gave up seem so much more precious. They love each other, work together, and don't have to keep secrets. Why can't they enjoy that?
After Elizabeth took Richard, her life became a bit more clear. Richard was no different from her. He was following orders from above and feeling just as alone as she was. He pushed her buttons and opened her eyes to what she had. She couldn't kill him and left him blindfolded on a park bench. Finally, she realized what Zhukov had been telling her all those years about loneliness and Philip.
It was heartbreaking to see the miscommunication between Philip and Elizabeth when she brought "Thanks A Lot Beer" to his motel room. She thought he was coming home and was heartbroken to realize he had gotten an apartment. She should have spoke up and begged him to come home, but she just collapsed into herself and left. How could Philip not see what she was feeling? Is he too resentful to recognize her pain? Or, does he want her to suffer?
Elizabeth may have lost her edge by letting Richard live, but she got the upper hand on Grannie. Claudia set her up from the beginning by giving her Richard's name. She knew that Elizabeth  would seek out revenge for Zhukov's death and used that to play her. Grannie is as manipulative as they come. She lost whatever heart she had long ago. It would be a shame to see Elizabeth follow in that same path.
Elizabeth: This isn't going to go well for you, Old Lady. | permalink
Elizabeth is no longer only at war against the evil, capitalist United States, she is also fighting Grannie. Will she tell Philip? I hope that will finally bring them back together. They are so much better when they are working, living, and loving as a partners.
Odds and Ends
Agent Gaad: They kill us. We kill them. That's the world that we live in. | permalink
Agent Gaad: This isn't a Cold War. There's nothing cold about the covert violent exchanges between the United States and the Soviet Union. They've killed not only our agents, but our citizens and for that, they'll pay. | permalink
After seeing Stan and Philip hang out for most of the season, it was a pleasant surprise to see the wives go out on the town. 
"The only bad guy here is you." Ouch! Sandra knows how to hurt a guy.
The flashback scenes between Elizabeth and Zhukov were telling about her relationship with Philip. Even though her mentor tried to get her to be with her husband, she was reluctant. With his death, will she chose loneliness? Or, happiness? It's her choice.
Nina was promoted. She's moving quickly through the ranks. She didn't share the Weinberger intelligence with Stan. Is she having second thoughts about turning on her country? Will it make a difference if she continues to be in a relationship with her?
Elizabeth definitely is skilled at picking up men. She knows exactly what method will work with each of her targets. Crossword puzzle? Wow.
It was sad to see Philip hanging out with his kids at the motel. If the vending machine food wasn't bad enough, the guy peeing in the parking lot definitely clinched his need to move.
Will the decision to let Richard go come back on Elizabeth and Philip? Will the FBI start looking for an undercover couple?
Carla Day is a staff writer for TV Fanatic. Follow her on Twitter and on Google+.