"Let Her Go" was apparently the back door Chicago PD pilot NBC talked about when that show was picked up to series this week.
Instead of focusing heavily on the characters we've come to know and love on Chicago Fire, we spent a good portion of time with the folks who will be planted on the new series and how they worked Hallie's murder case.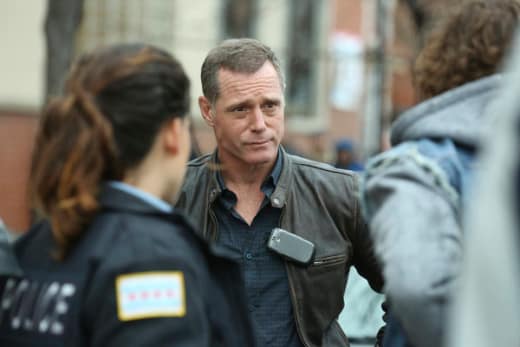 I wish I could tell you I was invested in the what was happening with Casey and the police department in general, but other than a few slick moves from Antonio, I wasn't feeling it. Perhaps you all got a different vibe? We did learn that Voight was "putting himself out there as dirty" to catch some big fish, so that will likely play out on the other series.
The other stories that were on back burners this week were continued progress of opening Molly's. They thought about slowing down after Hallie's death, but decided to donate all proceeds from opening night to her hospital in her honor and continue on schedule. That was a good move. Life really does go on.
They were looking for employees and we met Otis' Russian gal pal. I wasn't sure how she was going to work in a bar when asked a normal question she replied with "hello." My favorite line of the night came from a discussion inside Molly's. If you've done any searching for the show on the Internet, you most likely ran into a little problem that can be explained with this quote:
Mouch: And the Fire.
Hermann: The who?
Mouch: Soccer team. Chicago Fire.
Hermann: Who knew? Okay. Sure, fine. Get a banner! | permalink
I'm pretty sure they have the Twitter account, too! The opening was going to be smashing success, however, as Otis' Russian was just a tad off. He thought his girl was bringing a monkey to opening night when in fact it was, oh, THE STANLEY CUP! My mom and Joshua Jackson would have gone to Molly's on that night, and it turned out Casey and Hallie had a strong connection over their love of hockey. It was a sweet moment.
Shay and Severide arrived at their big baby making day, and with it came some decisions they had to make about the baby's future. Who would take care of the baby if they died and all of those types of things. It appears Dawson will be the Godmother. Will Casey eventually be named Godfather?
It wasn't surprising that Mills broke up with Dawson over her omission of the big secret. I'm wondering whether he's still interacting with his beloved mother and frequenting the restaurant or if he's cut the ties with her, as well. I'm also shocked he hasn't put in for a transfer so he is no longer working under the rule of the man who slept with his mother.
If he can break up with Dawson over something which was not her business (he says it was) and continue along like normal with the people whose business it clearly was to tell him, then our young man has some issues he needs to clear up.
The case of Hallie's murder was wrapped up and it was the fella who walked out of the clinic room as I surmised in last week's review. He was a drug bully of some sort. Casey wanted to be the one to take him down and got himself held by the dude in the process. I have to admit an admiration for Voight as he walked up and shot him right in the forehead. Didn't even hesitate.
It as a decent episode, but not up to par with what I expect weekly. Not enough laughter and tears interspersed throughout the hour, but I don't expect 24 episodes of perfection. Chat about what you liked and what you think might happen with the new series now that you've met more of the players.
Carissa Pavlica is the managing editor and a staff writer and critic for TV Fanatic. She's a member of the Critic's Choice Association, enjoys mentoring writers, conversing with cats, and passionately discussing the nuances of television and film with anyone who will listen. Follow her on Twitter and email her here at TV Fanatic.