The end always sneaks up on you, huh? I mean, no one's come out and said that "Advanced Introduction to Finality" is the very last time we're going to see Jeff speechify, Annie get over-enthusiastic with crafts, or Britta accidentally Britta everything up. But in the highly likely event that it was, it was an excellent send-off.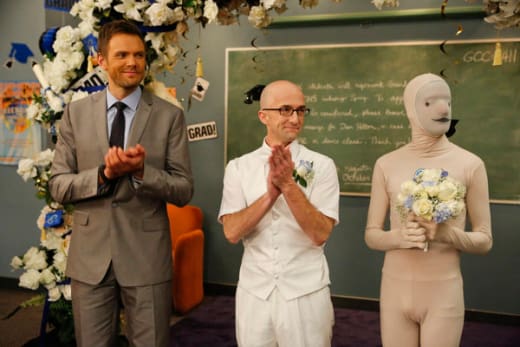 And a fitting one. Since, as previously discussed, Community is--at times--kind of an early 90s "T.G.I.F." show for clever, comedy-savvy adults, it was only appropriate that it maybe-end with a visit from the denizens of the Darkest Timeline, which itself is something of a Stefan Urquelle for clever, comedy-savvy adults.
"Advanced Introduction to Finality" harkened back to those days, before the internet (or decent network comedies), when a sitcom would go full-tilt magical realism for one episode, just for the hell of it, with no real ramifications. It was all in Jeff's head the whole time? Who knows! Who cares! It was tightly plotted, overflowing with excellent Community quotes, and gave everyone the Jeff-Annie make-out sesh that you didn't even know you needed (but you actually needed desperately).
The episode also harkened back to the anarchic energy of the show's finest moments--the paintball-drenched season finales of Community Season 1 and Community Season 2, where linear plot development was thrown fully out the window in favor of gonzo jokes and an alternate reality where these community college students could be heroes, just for one day.
But more than anything, this episode was an excellent tribute to the slow-burn character development of Jeff Winger. Community Season 4 has had its flaws, certainly, but the full revelation of Jeff's open(-ish) heart has been one of its greatest successes.
Is this genuinely the end, my beautiful friend (the end)? NBC has stayed mum, announcing the future of many of the network's other shows while holding their tongues on this. Are they waiting to see the ratings on this one? Am I part of the problem because I DVR'd it? I don't know (okay, it's actually a "yes" on the second one). We won't know til we know.

I'm going to hope for the best, but plan for the worst, and consider this a well-crafted, bitter-sweet wrap-up for a show that danced with the cancellation devil in the pale moonlight from the first season onward. We would have liked six seasons and a movie, but really, we were lucky that we got four. What? I always cry at fictional community college graduations!
I don't know if this is really goodbye. But if it is:
Goodnight, you princes of Harmontown, you kings of Greendale. We'll miss you, even if the Changnesia thing did wrap up kind of stupidly. I know things got a little intense between us every once in a while, but really, I'll just remember the good times. Stay crazy, and have a great summer.
Love,
Gabrielle
What did you think of the invasion by the Darkest Timeline? Do you think this is really the end for Greendale? Did you like Evil Pierce's robot leg as much as I did?