Skye being the only non-SHIELD person on Coulson's team makes her an easy choice to tie into story plots and dig into her back story.
However, given that the show is called Agents of S.H.I.E.L.D., it might be nice to rotate the character focus and included some of the actual Agents.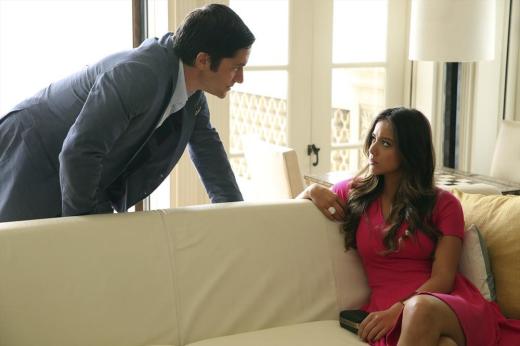 "The Asset" would have been the perfect time to do this, given that both Fitz and Simmons had a history with Dr. Franklin Hall. We could have gotten more of their back story, worked them into the action a little more and had some story attention for our two favorite nerds.
Alas, it didn't turn out that way. Instead, we got Ward giving Skye a crash course in hand to hand combat, more discussion about Skye's commitment to the team and Coulson and Ward storming the beach together while Skye did her impersonation of True Lies while mingling with the crowds using information fed to her. 
Don't get me wrong, I'm thrilled with where things went with Skye and her opening up to Ward about her foster home. It was a great bonding moment for the two of them. But now that we know she's committed and Melinda is willing to be back in combat, can we please focus on some of the other characters?
Speaking of other characters, for those not familiar with Marvel Lore, Dr. Franklin Hall becomes Gravitron in Marvel comics; they alluded to it in the final scene where the hand sticks out of the floating mass in the box. This was a pretty cool, yet subtle reference to the Marvel universe.
Which brings me to another point: is anyone else noticing a strong trend in there being a reference to The Avengers movie in every episode so far? We get it, this all happens after the movie and SHIELD was working with the Avengers. If we have to hear about the Avengers in every episode, can we at least hear more about how Coulson's back? 
While I am enjoying the show, it almost feels like it needs another character in the mix at the front. Coulson is great, but he's a bit more Giles-like (from Buffy the Vampire Slayer) where he is very knowledgeable, but you really don't expect him to lead a rescue mission. Maybe now that Melinda is going to be mixing it up with combat and flying she will come out of her shell a bit. 
What do you think? Does the show need another character to really pull it all together or will sharing the focus on the other characters available fill in the gaps? Overall I'm giving the episode 3.9 hits to the punching-bag in honor of Ward and Skye bonding a bit more. 
Jim G. is a TV Fanatic Staff Writer. Follow him on Twitter.