At the end of the day, we all want a life that's good. Deacon Claybourne's lyrics, which were sung beautifully by Maddie and Daphne at the end of "You're No Angel Yourself," may never have been truer.
The artist of Maddie's new favorite song is obviously the character most connected to the sentiment, and although his words have a different meaning to him in life now than they did then, Deacon is still searching for a life that's good.
These days,that means working to stay sober. It also means accepting an invitation to dinner from his court-appointed lawyer, giving her a chance to open up to him and giving in to the idea that there was something between them.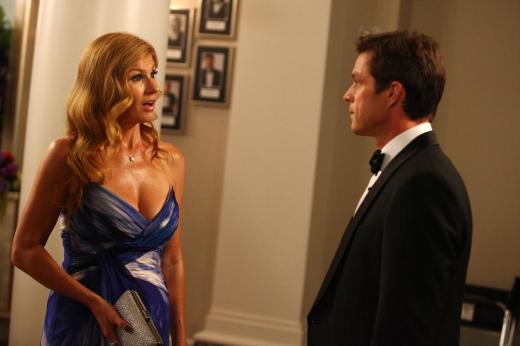 Finally, a life that's good would be one in which Deacon has a consistent and solid relationship with his newfound daughter. That phone call at the end of the hour - between father and daughter - was fantastic. He was earnestly concerned, and he acted fatherly with ease.
Rayna, meanwhile, was less concerned with working towards having a good life and more worried about dealing with issues life has forced upon her. After admitting that she doesn't know who she is without her voice to her mother's grave, Rayna quit the tour with Juliette. The only issue is that she lies and uses the excuse that she needs to be there for her family.
She does. She needs to be with her family in these trying times - what with the divorce, the Maddie/Deacon issue and Teddy getting engaged to Peggy - but until she can tell someone alive that she can't sing, she most certainly won't have a life that's good.
Juliette Barnes spent most of "You're No Angel Yourself" recovering from Rayna quitting the tour.  She attempted to go back to her glitter and bubblegum roots, but quickly nixed that idea after rehearsing that ridiculous "I'm a Girl" song. She turned down the idea of not playing in arenas. She also nixed opening for Luke Wheeler - apparently the biggest name in fake country music.
What did she come up with? Well, Juliette thought of the brilliant idea of having that chipper Layla girl open for her to appease all of her tween fans. It makes sense in that the fans will still get to hear Juliette's old style in Layla and Miss Barnes will be able sing her new, more grown up songs. The only problem I have is that if she was only going to sell out half an arena by herself, I don't think brining Layla on will make up the difference.
Maybe the best part about Nashville is when Juliette shows her sincerity and that was showing up in spades here when she went to pick up Maddie, talked with her through some issues and called Rayna to come get her.  
With the new additions of Will and Zoey, The Kids Club has expanded greatly this season. This week, their story was split in two as the girls dealt with Scarlett's new fame and the boys struggled with Will wanting Gunnar's song.
I liked that Gunnar stuck to his guns and didn't let Will cut his new song as a single, but I LOVED that Avery was the one who gave him the confidence to make his stand. It didn't matter what issues Avery and Gunnar have had with each other in the past, the former was going to help the latter keep his song.
The only issues I had with this week's episode came from (who else?) Teddy and Tandy. Really, Teddy? That's your proposal? You tell her you don't want to tell people, but then let her wear the ring around her neck at the gala? Finally, insisting that Peggy is part of the family is an absolute joke. How about you slow your role for a second?
Finally, Tandy making that move to take her father down for all the illegal stuff he did was absolutely insane. She has zero proof that he had anything to do with her mother's death, but she's going to pull the trigger anyway. Come on girl, be better than that.
Other than a couple of hiccups, "You're No Angel Yourself" was another quality hour of Nashville. What did you think of the episode? What were your favorite moments? What didn't you like? And which character can say they actually have a life that's good?
Dan Forcella is a TV Fanatic Staff Writer. Follow him on Twitter.