Welcome back to Ravenswood, the creepy town that Spencer and Toby first visited on Pretty Little Liars. After Caleb ends up there to help out his girlfriend Hanna, he finds some dark and intriguing reasons to stay.
In the Ravenswood pilot, we follow Caleb and his new friend Miranda to find out why their names and photos are on tombstones.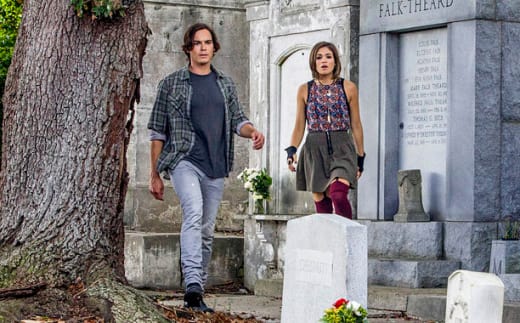 Seriously, what is it with ABC Family shows and people chilling in cemeteries? Miranda was en route to Ravenswood to reconnect with her uncle about whom she received a letter. As it turns out, Uncle Collins is an extremely awkward undertaker who is not keen on reconnecting with family. He's almost a caricature of an Addams Family character. His home is managed by Mrs. Grunwald, who we also met on PLL. Grunwald encourages Collins to open up to Miranda.
The Collins home, in addition to being a funeral parlor, is all sorts of scary. The main thing that Ravenswood has that its predecessor doesn't is a supernatural element. It also feels like it's filmed in blue screen sometimes, but that could just be the darkness of this seemingly haunted town. As Caleb so bluntly puts it:
There's so much death, it feels like the town is soaked in it.
Personally, I'd be hopping on the first bus out of there. But then again if I saw my name and picture of a gravestone, I'd definitely be disturbed. Also a reason to stay? Three words: Caleb. Rivers. Bathtub. Granted, he almost got drowned by a ghost, but man is he yummy.
Caleb's curiosity leads him to the town newspaper where we met Remy. Remy's mom is the sole survivor of an attack in Afghanistan. Remy is also a sweet girl, who is dating Luke. Luke and Olivia's mother is being accused of murdering their father, and Luke believes she did it.
You can assume that Remy and Luke aren't having the most romantic relationship right now, but she attempts to be there for him. Getting in the way is her overbearing father who doesn't want Remy with Luke and doesn't want Caleb looking through his archives. When Caleb and Miranda later sneak in and meet Remy, we finally hear about the curse that is connecting these five teens. 
Every event that has happened to them happened twice before, ending in a car crash and drowning. If this sequence of events were to happen a third time, there's obviously something going on. As Remy's car approaches the bridge it's obvious what's going to happen... but surprisingly it wasn't the weather or slick roads that caused the crash but rather the ghost Miranda sees in the road.
Overall, I think the different storylines separating the characters will provide a lot of material. I liked the characters and found them intriguing. The supernatural element is kind of hard to get on board with, especially with the ghost who looks like the girl from The Ring. I'm more interested in these five teens, their pasts and their connection. 
What did you think of the Ravenswood premiere? Will you keep tuning in for more? Grade it now: