Haven Review: Kicked In The Balls and Left for Dead
Carissa Pavlica at . Updated at .
William was kicked in the balls and left for dead in Haven Season 4 Episode 13, and it felt a bit like the audience was, as well. As much as I wanted the season finale to pick up the ball and run for goal -- something it wasn't capable of doing all season long -- it never quite scored.
Even worse, answers were few and additional questions were many. After a season full of lingering and weighted stories, it was time to tie up a few loose ends. So let's see what we did find out before the door closed.
The best scene came early, when we learned what happened as Audrey gave Duke back his Trouble and he then cured the family of their Trouble so their little baby boy was no longer an innocent life taking out many more with his cries. Just as William predicted, Audrey started to remember her original self, but even better was the effect having his Trouble back had on Duke.
The saving grace of Haven Season 4 has been Eric Balfour's performance as Duke, the single character who showed any true growth and development throughout the year. I'm not the only one aware of this, as his pain at having taken the life of the father was bolstered by moving music that made the scene even more effective as it played out.
Again, Duke saw the shift in Audrey as she recognized the woman William was wishing her to recall, but Audrey wasn't giving any real indication that she was falling under his spell.
As soon as Jennifer read that the four people needed for the Guard symbol in the lighthouse had to come from other worlds, it was obvious the fourth person was Dave. For what other reason would they have mentioned he was adopted if not for him to have been placed by Agent Howard? It was a bit disappointing the clue was so blatantly obvious.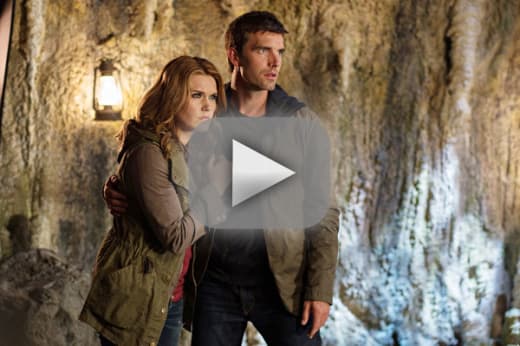 The remainder of the hour became a "race" to get William and Dave into the lighthouse against their will so the four could open the portal and someone could send William back to the other side. The sense of urgency, however, wasn't really there. 
Instead, as Nathan was trying to shoot William with a dart, I was wishing for him to put down the gun so we could get some answers from William while he and Audrey talked about Mara, her original self, and the love they shared. We got a flashback to them dressed as Hansel and Gretel look alikes, talking about the bad things they did, but still very little was discovered about who the hell they are.
They're from another world. Where? What is it? Why did Dave feel the need to go into it if the portal opened? Audrey asked why Mara was being punished, but she never got the answer. There was tease after tease of information, without a hit. We still don't know who Agent Howard was or why he put kids from the other world up for adoption in Haven. Relatively, we learned absolutely nothing.
We did learn that when Duke was re-Troubled all of the Troubles his family line had ever cured were activated within him and only William knew how to fix his malady. We learned that William didn't want to go into the door to the other world and that Audrey doing it to him would make her worse than Mara had ever been.
Yet, at the end, Audrey says she could never let anyone push him into the door -- she could only do it herself. In goes William, and with him Duke's cure. Jennifer dies and Duke starts bleeding from the eyes. Mara asserts herself and asks who is going to help her get William back and I groan, wishing William had tossed her into the other world, because it would have been a hell of a lot more interesting and might have guaranteed a renewal.
There was so much promise at the beginning of the season. The original could have come back to Haven in any form. Jordan could have chosen to give up the fight against her and worked with Audrey to cure the Troubles. Duke could have had a healthy familial relationship with Wade. William could have been the bad guy, trying to bring his original back and all of those other things would still have worked to the benefit of the story.
Instead Haven got lost in circular storytelling that never really found its footing. Characters became dispensable when they could have enhanced the ongoing mythology. As the group got smaller, the plot became blurred instead of focused. A series that traditionally had me on the edge of my seat could barely capture my attention.
Am I indicative of every viewer of Haven? Certainly not. But there is probably at least a few others left unsatisfied with the season, wondering what happened to the team responsible for Seasons 1-3, and whether they'll be able to capture the magic again if granted a fifth season.
Eric Balfour and occasional support from Adam Copeland -- as entertaining and talented as they are -- cannot carry the entire series on their own. While the others are up to the task, they weren't given material suitable to their talents. Emily Rose's runs in previous years as Sarah and Lucy outweighed her work as the lesser Lexie and Mara. Lucas Bryant's Nathan played off of those other incarnations with more zeal.
With a lot of new series hitting SyFy in 2014, I won't be surprised if a renewal is held until their success or failure is determined. We know Haven is capable of greatness and it would be a shame to go out on after a bad run.
It's your turn. Agree or disagree? Have your say in the comments!!
Carissa Pavlica is the managing editor and a staff writer for TV Fanatic. She's a member of the Critic's Choice Association, enjoys mentoring writers, cats, and passionately discussing the nuances of television and film. Follow her on Twitter and email her here at TV Fanatic.