It isn't often that Castle has absolutely no theory, crazy or otherwise when it comes to a case - but over half of Castle Season 6 Episode 16 went by before we heard him come up with the words psychically linked.
Castle was stumped, as was Beckett, everyone else at the 12th and this reviewer. How do three people share the same memory of a murder that in reality none of them committed?
It was one of the most creative cases we've seen in quite awhile, which made coming up with my own theories all the more fun. (My guess was hypnosis, if anyone's interested.)
But this episode made me smile on many different levels. I loved the continuity of having Phil LaMarr reprised his role as Dr. Holloway. We haven't had the good doctor back to the 12th for a psychological evaluation since his visits in Castle Season 2, "Vampire Weekend" and "The Fifth Bullet."
Watching Dr. Gustavo Bauer try to get the upper hand on Castle and Beckett via his video screen interview was a little like watching the Wizard of Oz. I figured at some point they'd pull back the curtain and find the arrogant mystery man and I wasn't disappointed. 
Despite Castle being famously thoery-less, his attention to detail did manage to crack the case with a bottle of water, which led to a fun Castle quote reminiscent of banter we've been missing this season… 
Castle: You should know it, you're engaged to a genius.
Beckett: Yes, a genius at annoying me.
And as fun as the case was, I had to agree with Beckett. If I had to listen to that confession one more time, I might have shot someone. 
I was happy to see Capt. Gates back in the fold this week but I definitely missed Martha and I had one question. Doesn't Martha ever make coffee in the morning?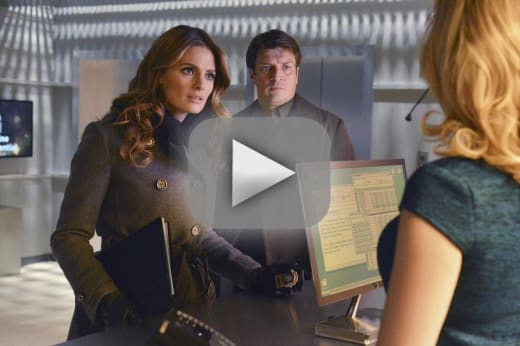 Speaking of which, Alexis was home, sort of. She and Pi have now officially broken up. I have no idea where the bee watcher went and I can't say I really care. Unlike my disappointment at never having witnessed Beckett and Josh's breakup, seeing the last moments of Alexis and Pi was completely unnecessary. I'm just happy it's over. 
I always find it amusing how Castle can be brilliant when it comes to solving cases but clueless when it comes to the women in his life. For such an intuitive man, he never picked up on Kate's trepidation that Alexis might be avoiding moving back to the loft because of her. 
Finally, we were able to hear an actual conversation between Alexis and Kate. I can't remember the last time that occurred and it felt long overdue. 
As much as Alexis has annoyed the heck out of me in Castle season 6, I have to agree with Beckett's love haze theory. It happens and sometimes it's like waking up from a dream when you finally come out on the other end. 
Now, most of us would simply have to find a new roommate, work extra hours and make it work so as not to break our lease on our crappy apartment. But most of us don't have a rich, loving, generous father like Rick Castle. He wouldn't hesitate to write that check for his only daughter, especially if he felt she was the slightest bit unsafe.
The smile on his face when Alexis finally came home said it all. If I had one wish at the end it was that Alexis would have told Castle about her conversation with Kate. Other than that, it was a fun and fascinating episode that I'm sure I'll enjoy watching again.
Your turn, TV Fanatics. Do you believe in the love haze?
C. Orlando is a TV Fanatic Staff Writer. Follow her on Twitter.