Bo was not about to just "Let the Dark Times Roll" this week.
She was determined to get to the bottom of the Una Mens' declaration that she was Dark. Bo didn't want any part of that.
Lost Girl Season 4 Episode 5 didn't really end up answering many questions, though; instead it just introduced a bunch of new mysteries and unresolved issues. Unlike last Monday's episode, this one was confusing (not in a good way) and dragged at times. A more narrow focus would have helped this hour some.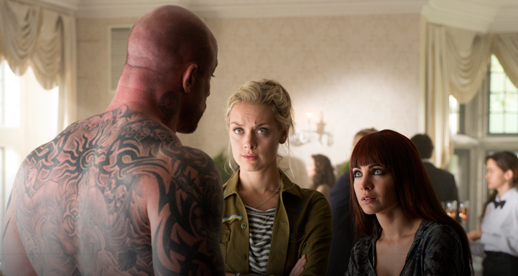 Bo was hindered at every turn from rescinding her Dark Fae status. The Una Mens weren't any help at all and then the Morrigan misdirected Bo for her own purposes. Vex didn't have any answers regarding how Bo turned Dark. Instead, the Morrigan just wanted to find him for herself.
While Vex couldn't help Bo, she was able to assist him at least a bit. She saved his hand and took it to Trick. It's unclear what was happening to the proclaimed last Mesmer, but it wasn't good. It was touching that Vex did head back to his Light Fae family of sorts when he was desperate. He denied it, of course, but he did.
After spending the first three seasons primarily with the Light Fae, the shift to the Dark Fae is one full of intrigue. New Fae and philosophies to be explored. For example, the dance off to the death to gain control of Bruce. I wondered how a dance off could end in death, but it certainly did and it worked.
The big shocker of the hour was Bo and Lauren's relationship. After all that Bo went through when Lauren ran off and then disappeared, it was a surprise that Lauren was welcomed back without question. It was like nothing happened. They saw each other and hooked up. The anger that Bo had and the questions about Karen became moot.
For Bo's loyalty to Lauren, she was left aghast when the doctor picked the Dark Fae over her. What? It seemed selfish of Lauren to make that decision without talking it through with Bo. From a freedom standpoint, Lauren's decision made sense. The Dark will protect her and offer her a freedom that she didn't have under the Light ... or so they say.
Her decision to stay with the Dark was a slap in the face to Bo, who wants desperately to leave the Dark behind. At least not right now. If nothing else, Lauren should have let Bo help make the decision. As it stands now, Lauren can't stay with the Dark and be with Bo at the same time. Just another wrinkle in Bo's complicated love life.
Elsewhere, Trick was named Acting Ash. I loved the conversation between Trick and Bo about his new leadership status and her now being the "Darling of the Dark." Bo's life and that of the family she has created is getting more complex each day.
The mysterious Rainier is going to stir up trouble for them all if Arabella's reaction to his name was any indication. Plus, he's responsible for Bo's predicament. Hope we see who I presume is the Wanderer soon!
Did Lauren make the right decision to stay with the Dark?
Carla Day is a staff writer for TV Fanatic. Follow her on Twitter and on Google+.