Pretty Little Liars Review: Lies Beget Lies

Teresa Lopez at . Updated at .
Despite the delay with last week's mostly pointless episode, tonight's installment did not disappoint.
In fact, it actually exceeded my expectations. A first for this show!
On Pretty Little Liars Season 4 Episode 20, Aria finally finds out about Ezra, and it is explosive!
We finally got the confrontation we were waiting for ever since Spencer ran into Ezra at that college pub in Pretty Little Liars Season 4 Episode 17. This outing featured dramatic scenes, emotional moments and a whole lot of tension. It was quite the exciting hour of television.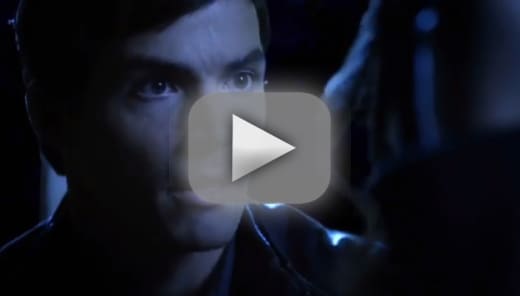 Spencer started things off by continuing her after-school-special drama. Her amphetamine abuse has gotten so bad that not only did she hallucinate most of Pretty Little Liars Season 4 Episode 19, but she also showed up at school in the middle of the night and fell asleep at Ezra's desk. All with no recollection of the events.
It gave Ezra the perfect excuse to make her seem completely unreliable to Aria.
Once the girls confront Spencer about her problem, she doesn't help things by acting extra crazy and referencing the little night club shooting that never happened. Spencer is able to bring Emily and Hanna around again, but her drug-seeking behavior is finally discovered when the doctor's office calls her mother.
Looks like things are going to get much more difficult for Spencer in the future.
Before getting busted by her mother, Spencer does help orchestrate a trap for Ezra; however, it's one that he cleverly avoids. Probably by sending Mona. That other girl in the blonde wig could have been anyone, but Mona did have that little discussion with Ezra earlier in the evening, and she did leave her date with Mike for awhile.
That minor A drama really paled in comparison to the moment when Aria found that manuscript in Ezra's cabin. She was already suspicious when he happened to know a very specific detail about Spencer finding "Toby's" body in the forest. But the pages filled with remembrances of his affair with Alison was too much. 
Suddenly Spencer's theory about Ezra didn't seem so crazy.
And it led to a an intense chase scene in the woods. Watching Aria choke down her screams while Ezra tracked her down was one of the most suspenseful moments for the show. It did seem rather foolish for Aria to run towards ski lift (even for Pretty Little Liars logic), but Aria's silly decision did lead to a great confrontation between the two. And just what did we find out about Ezra?
Ezra claims:
He did know Alison. They dated when he was in college because he thought she was older, but he didn't kill her.
He wanted to write a crime novel about her and that's why he returned to Rosewood.
He knew who Aria was when they met. (So he knew he was hitting on a teenage girl? That kind of makes the whole thing way more creepy and predatory.)
Ezra failed to mention any of the video surveillance, and he made sure that Aria wouldn't read the rest of the manuscript. Someone did gather it up all again later, but who? Aria doesn't appear to be willing to forgive him even if she believes him. And it looks like Aria is next to totally lose it in the next episode. 
Do you believe Ezra has finally told Aria the whole truth?