Ravenswood Review: The Originals
Leigh Raines at . Updated at .
Hanna was pissed when Caleb returned to Rosewood on Pretty Little Liars just to break up with her.
Clearly, she doesn't let go of her man so easily, as she made a surprise visit in Ravenswood Season 1 Episode 10.
So did Caleb give her more of the truth this time instead of just saying "it's complicated?" Read on to find out!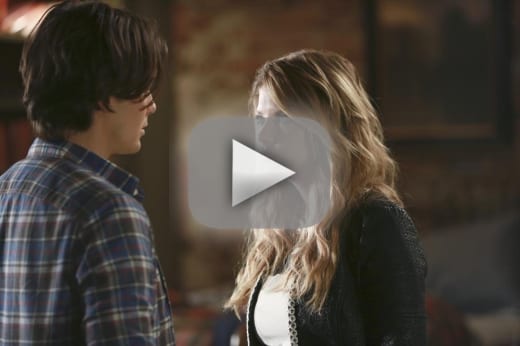 Hanna showed up at the coffee shop and asked where Miranda was. She wasn't going to let Caleb go without a fight. And who would? Caleb is a great guy. Miranda wasn't lying when she said he was a rare breed. 
Caleb was forced to tell Hanna at least part of the truth and sent her back to Rosewood, slightly confused, slightly sad, but slightly more settled after realizing Caleb didn't just ditch her to hook up with some new girl.
Who can I sue in this town for making my boyfriend as crazy as a bag of cats?

Hanna
I admit that I think Ashley Benson was a bit of a distraction by having her in the episode. Ravenswood is a dark town with supernatural elements, and although Benson's character on its sister show deals with her fair share of psychos, Hanna has this dynamic element that felt kind of wasted in Ravenswood. I feel like her visit probably made Haleb fans miss the couple even more.
I will, however, say that Hanna's scene in the chapel with ghost Miranda was really beautifully done. Even though Miranda loves Caleb too, it didn't feel competitive. It felt like two girls just speaking openly, not really to each other, about life, love, and a really good guy. I liked that Hanna put flowers on Miranda's grave even though she originally went there to confront her. It was a classy move.
So while the rest of us were distracted with the famous Haleb and sort of love triangle, Remy, Luke and Olivia, were realizing that one of the past victims of the curse named Ryan was who was acting as kind of a spirit guide. Ryan is the one who showed Olivia the fire. This week he showed them who killed Olivia and Luke's father and surprise surprise it was Dillon!
Dillon yelled "I don't wanna die!" as he stabbed the Mayor, but the mayor wasn't a teenager... so why was he Dillon's target? Well, according to Collins, whoever finds out about the pact and tries to change it dies. He's just been protecting the souls since the pact started and will continue to until the contract is finished.
Whoever questions this gets the same answer, death.

Collins
Collins ultimately ended up rescuing the teens in the church after they went there to rescue Remy from Dillon. Abaddon was willing to let Miranda come back to life...but only so he could kill all five of them together. Collins surprisingly jumped in and offered something he knew was more powerful: the soul of Original Caleb.
He said something about the two of them being more powerful together, so I presume this means that by separating Original Caleb and Miranda, Abaddon gets some leverage? 
Whatever it meant, confused Original Caleb now thinks present day Miranda is his long lost love. So, this is where I get lost. If Collins is separating their souls doesn't that mean that Original Caleb has been in weird limbo with Original Miranda? Or where is Original Miranda exactly?
Also in the beginning of the episode, Collins and Mrs. Grunwald talk about Dillon doing what he needs to get done. Does that mean that they knew and condoned him helping Abaddon? It just doesn't make much sense since Collins ended up going up against Abaddon to help the group.
Oh well, Dillon's now gone. Miranda has a new ghost friend. And then four teens are slightly closer to unraveling the mystery of the pact.
So now that you've seen the Ravenswood Season 1 finale, grade Ravenswood as a whole!