Archer Review: Smuggler's Blues
Robin Harry at . Updated at .
This week's installment of Archer: Vice brings two things that we haven't gotten much of since the season started: field work and Ray. 
I love the field work episodes.  The Archer gang is always the most interesting when they're in different environments;and, frankly, I think we've seen enough of the Tunt mansion for a while. It's about time something happened to shake things up!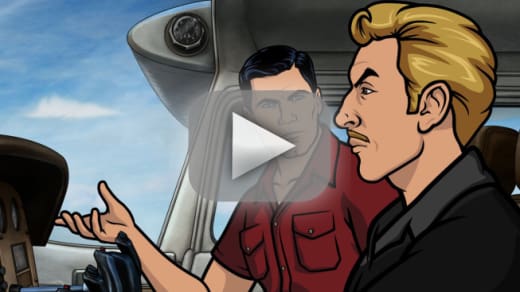 Archer, ever trying to prove himself to his mother, took a batch of cocaine to Colombia to sell to the local cartel, run by a woman named La Madrina. As with the Texas run, not the brightest idea he's had, but at least this time it seemed like he gave it a little more thought. 
Also, he had Ray and Cyril with him on Archer Season 5 Episode 7.
Cyril was surprisingly inept in the field - more so than I remember him being before (Geez, even I know the distributor cap). Ray, on the other hand, has always been the voice of reason and nothing has changed now that he's mobile and back in the game.
My favorite part of the episode was the banter among the three guys. Their sarcastic comebacks to Archer's inanities were matched only by their complete surprise every time Archer did something right or exhibited some thought.
Also, this episode gave us one of the best rants ever to come from Sterling Archer (check out the quotes section), along this gem of an insult :
So if you'll hide your vaginas, it's time to gather some intel.
Though we have been seeing Sterling mature a bit over the course of the season, I maintain that it's a crawl to his final destination. There was nothing surprising about him sleeping with La Madrina - she was a stunning woman who threw herself at him. We really can't expect much more from Archer, honestly. Wait till Lana finds out...
What I didn't see coming was the conclusion - La Madrina being an undercover cop, the three guys being taken into custody. Malory actually had a heartfelt moment (those are few and far between with her), breaking down and asking Lana to go get Archer.
Especially interesting since she spent most of the episode needling Lana about parenthood and complaining about raising Archer. 
I'm SO very glad that's how it ended. I would argue that the some of the strongest episodes of Archer have been the two or three-parters; the cancer arc in season 2, Heart of Archness AND Space Race in Archer Season 3. I'm really excited to see what's going to happen next week with Lana heading off to rescue Archer in all her glorious pregnancy. 
This week had a lot of Archer-isms:
NOTES:
Sidenote: Did Malory really treat baby Archer's croup with bourbon?! That would explain a lot...
Cyril and Ray's response to Archer's Len Koenecke reference is pretty much how most of us viewers respond to all the show's obscure literary, cultural and historical references.  "Who?!"
I'm with Krieger. I cannot for the life of me understand why people post pictures of their food on

Instagram

Snacklesnap.
RUNNING JOKES:
Lana's big hands and strength: "I mean, did you use to be a man?"
You were serious?
Woodhouse being a GILF - Kreiger's making $2K a week with the GILF cam!
Archer's inability to use the metric system.
I seriously think that we need to bring "phrasing" back.
OBSCURE REFERENCES:
Len Koenecke - a baseball player who died pretty much EXACTLY how the plane fight went down in the episode.  Down to the fire extinguisher. Seriously, look it up. Man, these writers.  
Hal Needham - one of the most famous stuntmen ever. Doubled for Burt Reynolds, and directed "Smokey and the Bandit." Of course Archer loves him.
"A Mexican Mrs Garrett" - The Facts of Life. That one made me laugh out loud.
Phi Mu - one of the oldest sororities in the U.S.