With Dwarves disappearing one by one, Once Upon a Time Season 3 Episode 13 continued the mystery of the missing year.
Ruby and Granny have reappeared, but Neal's still gone and it's anyone's guess where he ended up. However, one thing's for certain: Hook wishes he was gone for good.
Well, I suppose he might feel a little guilty if Henry didn't get his dad back - but he knows that Neal is his only real competition for Emma's heart. 
Let's face it, her last boyfriend turned out to be a flying monkey. The pirate is looking darn good in comparison and he had most of the best lines in this episode. 
One of my favorites was when Emma seemed skeptical about the possibility of the Wicked Witch actually existing…
Emma: Really, she's real too?
Hook: Says the daughter of Snow White and Prince Charming.
If what happened to Little John is any indication, the missing dwarves and Neal may all be flying monkeys. I have no idea why the Wicked Witch would turn Storybrooke's residents into flying monkeys but I look forward to finding out. 
It was no surprise that the town was quick to turn on Regina. What I really love is that Emma and Regina are working together. I always suspected that these two would be a formidable duo if they could just figure out how to tolerate one another and share Henry.
I have to mention that I absolutely loved Regina's houndstooth print dress. It was subdued but she looked stunning in it and it was in complete contrast to her evil queen costumes.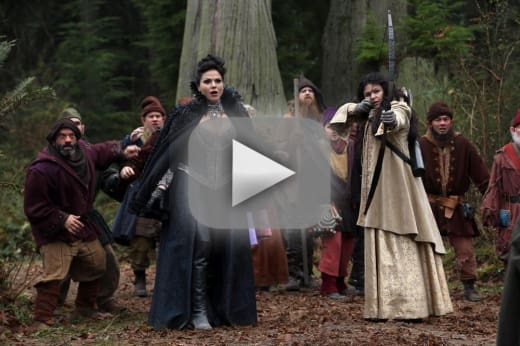 And I love the comic touch of making Grumpy the biggest gossip in all of Storybrooke. Word of Emma and Regina's plan spread quickly.
It's weird having Henry wander around not remembering anyone and you could almost visibly see Regina's heart break when he looked at her at Granny's and didn't remember a thing.
But apparently that's a pain she's been carrying around for the last year. 
A year ago in the Enchanted Forest, Regina considered taking the same sleeping curse she had once given Snow White. The loss of Henry had become too much to bear and the only reason she'd want to wake up was if her one true love came back to her. Her son, that is.
Not even Robin Hood could convince her otherwise but these two have a lot to learn about one another, as witnessed in this Once Upon a Time quote…
Regina: Who knew a thief had honor?
Robin Hood: Who knew an evil queen had a soft spot for children?
But the curse was literally taken out of her hands. How the Wicked Witch was able to break Regina's blood seal was a mystery, until I realized the only way one could break a blood curse. They'd have to share blood. 
So the Wicked Witch is Regina's half sister. Now that's a twist I didn't see coming and should give this feud the personal edge to make it truly dangerous.
And as if that wasn't enough for one episode, the Wicked Witch is holding a very special prisoner: Rumpelstiltskin!
Now there's no doubt the second half of Once Upon a Time season 3 will be wicked. 
VOTE: WHERE IS NEAL?
C. Orlando is a TV Fanatic Staff Writer. Follow her on Twitter.