Pretty Little Liars: Who's Dead? Who's Buried? Who IS This Girl?!?
Matt Richenthal at .
Are you still buzzing over the Pretty Little Liars Season 4 finale? 
Still trying to make sense of Ali finally telling all, Ezra getting shot and viewers coming oh-so-very-close to learning the identity of A?
Showrunner showrunner Marlene King sat down with Entertainment Weekly and TV Guide to answer a few pressing questions about what we just saw and what we'll see on Pretty Little Liars Season 5...
Is the person under the mask a man? That's a really good question. I would try to not read that much into [the physical appearance], but I think Hanna pointed it out that there was some athletic ability to that person.
Is Mrs. D definitely dead? For now she is definitely dead. And I wouldn't assume that the grave [scene] happened right after [the shooting]. We go to black for a second so that could suggest a timeline ambiguity.
Will we find out who was in Alison's grave after she escaped? You will find out in Season 5A.
Is A one person or many people? I'll use Ali's words: "Wait for it. Wait for it." She's so mean to Spencer. Spencer's like, "Did I kill you?" And she's like, "Wait for it. Wait for it." [Laughs] There's still a little bit of old Ali.
Is there hope for Paige and Emily? There is hope. Paige has such a deep love for Emily and Emily has a very deep love for Paige, and that picks up in the next episode very quickly.
Will Melissa be back? Yes! Right now she's available to us, so yes. We love her, too! Everybody loves to see Melissa.
What can we expect from Alison on Season 5? As we saw last night, she was very genuine or seemingly very genuine, but knowing what we know about Ali, do we trust her? Is it real? Who is this girl? That's what the reset is all about: Do we trust Ali? Do we get sucked back in? Has she changed?
Visit TV Guide and Entertainment Weekly for the full interviews, watch Pretty Little Liars online below and sound off: What did you think of the finale?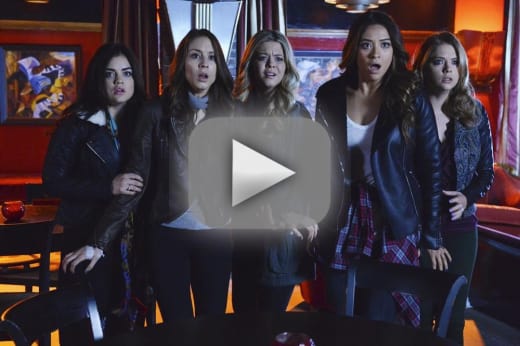 Matt Richenthal is the Editor in Chief of TV Fanatic. Follow him on Twitter and on Google+.