There has to be a least favorite hour of the season, and Arrow Season 2 Episode 21 just perched itself nicely in that spot.
There are a lot of things that just didn't sit well, while two women were given the chance to shine. The timing was off for a lot of the events in this installment and we were met with Oliver doing his "go to" trick: running away.
If all goes well, this will be the last time Oliver disappears into himself, brooding and feeling sorry for himself. He's supposed to be a hero, dammit.
He already had his sulky period at the start of Arrow Season 2 when Felicity and Diggle had to go swinging through the jungle to find him. Enough already!
Yes, Oliver, you did cause all of these problems because you didn't do some things right. You didn't take the opportunity to save Slade when you had a Mirakuru cure and then, as Thea pointed out, you let a freakin' madman stand in your living room without warning your family of the dangers ahead. Now your mother is dead.
Boo hoo for you. 
Get over it. Slade already shared some of your most important secrets with some of your closest friends and family. Deal with it and move on like a man. Surrender? Pfft. We all make mistakes; it's how we deal with them going forward that defines us. Stand by your mistakes, own up to them and make things right.
Running away and not attending the funeral was very poor behavior. Guess what he'll never have the chance to do again? Go to his mother's funeral. You don't get a do-over on that one. Thea needed him and he flaked. Thankfully, everyone else showed up to support her. 
Can someone tell me why Isabel Rochev was invited into the Queen house for the funeral reception? Surely they had some security. Didn't Oliver bother to tell anyone she was on team Slade? She did take over the company and try to steal all of their money, as well. Lock up the silverware! Sheesh.
Laurel finally got up the gumption to stand her ground and force her father to look into Sebastian Blood. Like I said when the story originally hit, just because she had a problem didn't mean her information was invalid. With a war brewing and Starling two superheroes down, someone had to jump in and try to figure out what's going on.
Thea was hit with an eviction notice on Verdant because Queen Consolidated owns the property. Just as I was wondering how someone was going to get word to Diggle and Felicity to close down the lair, they met with Amanda Waller (who Oliver apparently trusts more than his two partners). She knew of another lair he keeps on the side. 
Diggle and Felicity found Oliver, sullenly deciding to give himself to Slade because all is lost and it's all his fault and his death would be the best thing for everybody. Felicity gave him a great pick-me-up speech, but she was a little too kind. She reminded him that she could have a completely different life if she let her attitude get her down like that, but instead she met him and he saw she was more than the IT girl.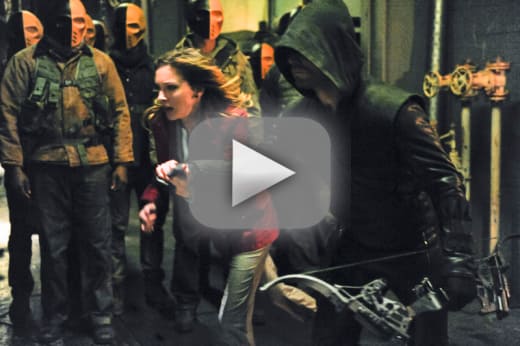 Still, he decided to give himself up and called Isabel. Instead, his plan failed and Felicity, Diggle and Laurel worked together to tranq him and take him back to the Arrow lair. It was time for Laurel and Oliver to have their heart to heart. Laurel's speech was a little less forgiving than Felicity's. She essentially said she knew him as well as she knew her own name and he doesn't give up. Nonetheless, Starling doesn't need Oliver -- they need the Arrow.
Everyone hates on Laurel all the time, forgetting that she has been in the dark about all of this and not by her choosing. Once she was given information, she handled it well and wanted to help. Even so, Oliver decided it was time to get back to basics with just the three amigos, but did anyone think she wasn't going to tag along?
Laurel did help for a minute when the crap hit the fan, but how it turns out in the long run will play out over the next two episodes. The hour ended rather abruptly, as it was all a setup for the next two installments and the big showdown with the Mirakuru army and Slade Wilson. I think.
Before I go, a friend told me I am being too harsh on Oliver and I should give him a break. He said that someone once told him, "A part of a man dies when he loses the first nurturing influence in his life. He's never the same again once he says goodbye to his mother." And, maybe that's my biggest problem here. Oliver didn't say goodbye to Moira. He just walked away. 
Here are some other moments of note:
Sebastian Blood was being sworn in as mayor on the same day as Moira's funeral. In what world would that happen? There wasn't even enough time for the election, let alone the transfer of power. 
Oliver disappearing and letting his team think he was dead (as Felicity did) for even one second was unacceptable.
We need more Walter. He's the only family figure they have left and he's a fabulous character.
Blood knows Oliver is the Arrow. Another one in on the secret!
Isabel is, apparently, the Ravager. I guess that's what donning the female Deathstroke mask means. Didn't like her pre-Mirakuru, don't like her now.
I could have done without the island scenes. Sometimes they just take up space.
The new lair had a zen vibe to it. I wonder how long it will take to get all of their stuff over there. Any idea why Oliver would have entrusted that information to Amanda Waller, of all people?
How adorable was Felicity crying at the funeral reception and calling Moira despicable? Love that "bitch with wi-fi."
I'm sure you all have plenty to say and rocks to throw. Have at it in the comments. If you want to see it all again, you can watch Arrow online in preparation for the last two episodes of the season.
Is running away acceptable behavior for a hero?
Carissa Pavlica is the managing editor and a staff writer and critic for TV Fanatic. She's a member of the Critic's Choice Association, enjoys mentoring writers, cats, and passionately discussing the nuances of television and film. Follow her on Twitter and email her here at TV Fanatic.