Hot and heavy were in the air on Chicago PD Season 1 Episode 10, with Ruzek and Burgess and Kelly and Erin making a go for lip locking.
In a somewhat surprising move, Kelly makes a play for Erin after he comes in to the Unit to help assist in a case to identify a man who clocked Mills on a call.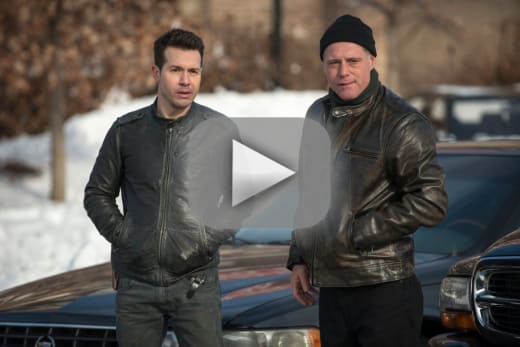 Stealing Erin's paper weight as an excuse to go see her. It's a bold move on Kelly's part, but the chemistry is undeniable. There's heat for days and even some use of the tongue as their kiss continues. Someone give Station 51 a call, Erin's apartment must have smoke billowing out of it by now. 
As much as Jay and Erin are electric together, the pairing between Kelly and Erin is just as strong. It's an excellent use of both shows, allowing the stories to continue to intertwine in an organic way rather than calls between the two coincidentally overlapping.  
Ruzek, meanwhile, is having some serious doubts about his impending nuptials now that he saw his life flash before his eyes and Burgess planting one on him.
With enough character deaths on television the past few weeks to last a lifetime, I'm pretty thankful that Ruzek was wearing his vest. Ruzek questioning his choices has been a long time coming. There's been a setting up as Olinsky and him being kindred souls, and if Ruzek is not careful, there's a chance he can make the same mistakes that Olinsky has. 
Burgess needs to be given credit as well. She could have easily continued and given in completely after planting one of Ruzek, but she realizes the errors of her ways and refuses to be the wrecker in the situation.
It takes a lot of courage to do that, giving a little extra drama and angst to the situation. Ruzek might want to continue, but until he sorts out his own house Burgess has taken herself off Ruzek's market. 
Jay's situation with the Rodiger family is finally coming to an end. I never once believed Jay was the killer, but with the way the father acted I never would have suspected it was him.
The man stood by his son through everything, but finally snaps when he realizes that his son has been lying to him as well about being a pedophile. In his conversations with Jay, Frank seems to have done the killing out of a sense of love and duty to his son one final time.
To free him of his pain and his sickness. It brings about a tragic end for a father who lost all hope for his son and out of guidance to give him. 
Finally, Mia Sumner earns herself a spot in the unit. Her presence brings much more formality to the unit, but it is still unclear if she truly is working on his own without any Stillwell involvement.
Nonetheless, the girl can kick some serious butt with a shotgun and she is not afraid of getting her own hands dirty for the Unit. If she is working for Stillwell, she's doing an excellent job of keeping herself off the radar.
Who do you like together more on Chicago PD?