If you thought Las Vegas was the big trip of the season, you thought wrong!
Modern Family Season 5 Episode 20 took our favorite family down under to Australia. So, what warranted such an awesome trip?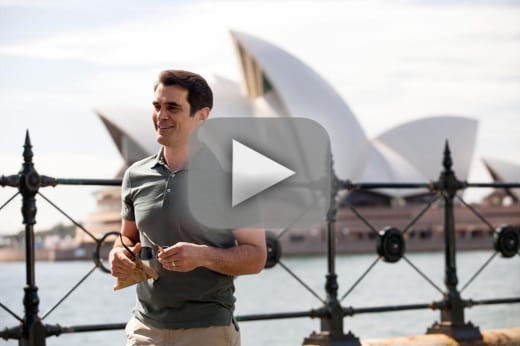 Apparently Phil was conceived there on his parents' honeymoon! In fact, he still has the blanket he was conceived on. Much to Claire's surprise and dismay, it's the blanket on their bed. Really hoping you washing that, Phil...
Even if he didn't have a familial connection to Australia, Phil seems like he'd be a natural born tour guide. He's just one of those people who loves facts and trivia. It seems like he passed this trait down to Luke. 
Manny: Bondi Beach is topless.
Luke: Thank you Trip Advisor.
Aww, pubescent boys seeing their first pair of knockers. So special. You know it wouldn't have been half as entertaining if they didn't have to go through their whole journey of being able to handle it. Luke got spooked when he saw both boobs coming at him at once.
That's probably how that kangaroo felt when when it was approached by Phil. Poor Phil really got beaten up. Getting punched by the kangaroo, countless mosquito bites, the allergic reaction to Vegemite... and let's not forget the jellyfish.
Wait, guys, would you let a jellyfish sting you if it meant you could stand like a foot away from Sofia Vergara in an Agent Provocateur monokini while chilling on the beach in Australia? Probably, right?
I have to say the best comedic relief of the trip was Cam and Mitchell. First of all, they are total starf***ers, they should just own it. Fergus was annoying, but the montage of them hanging out of the limo and mugging for the paparazzi outside of a club was hilarious.
Mitchell: I'm so nervous. Are we gonna say Hugh Jackman in a bathing suit? What do we say to Hugh Jackman in a bathing suit?
Cam: Oh my God, it's so big.
Mitchell: That's a bit direct but you know he might be flattered- oh you're talking about the boat.
Let's not forget when they were approached by Australia's Son of Anarchy and were peeing in their pants; Only to end up totally bonding and come rolling up to the Bush on the backs of the bikes.  
It's too bad that Jay and Claire were so wrapped up in their work. They really are cut from the same cloth! I'm just glad that Gloria snapped some sense into Jay in time for him to be able to enjoy the trip of a lifetime.
I bet this was an incredible episode to film. The last part of the half hour with all the clips of their adventures really just seemed like we were watching the actors on a real life vacation. It must've been amazing!
So which Modern Family vacation episode did you prefer? Australia or Las Vegas?