Once Upon a Time in Wonderland Review: A Happy Consequence

Christine Orlando at . Updated at .
With the series coming to a close, Once Upon a Time in Wonderland Season 1 Episode 13 had me wondering exactly who would survive this magical adventure. 
There were three rules for using magic…
You can't bring back the dead.
You can't make someone fall in love.
You can't change the past.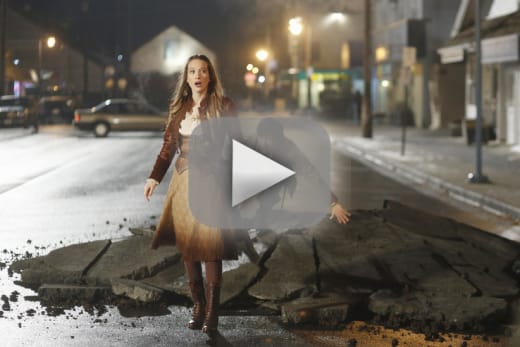 Now that Jafar had changed the rules, both he and Amara were capable of all three and Jafar wasn't wasting any time in using his new found powers. The first of which I didn't see coming.
When he made his father love him and say how proud he was of him, I couldn't help but think how sad that was. That he'd lived his entire life longing to hear those words and the only way to get his father to say them was through sorcery. Of course, killing the old man took some of the warm fuzzies out of the moment. 
I had no doubt that bringing back the Red Queen would come with a price. What I didn't expect was that Jafar would use his magic to force her to love him. The cringe on Alice's face as they kissed said it all. Eww. The last thing any of us wanted to see was a make-out session between the two. 
I liked that Amara summoned the magic carpet to help escape, but I wished we could have seen a little more of it. 
Jafar summoning the soldiers from their graves was a little like Alice meets the walking dead. I was simply grateful they didn't try to eat her brain. 
Amara surrendering herself back to the Well of Wonders felt like it should have been more emotional - but with Cyrus, Alice, the White Rabbit and Jafar all there, it lost a bit of its dramatic punch.
However, the moment Jafar stole the water I knew what was coming. In an instant Jafar went from being the most powerful man in the universe to living in a bottle, forced to do others bidding. 
As Cyrus and Alice celebrated, I worried about Will and Anastasia because Will has gotten sucker punched over and over again.
When Will broke Jafar's hold on Anastasia with true love's kiss, I was thrilled. It made it all the more crushing when he found her dead once again. I loved that the Guardian of the Well of Wonders said that although the Red Queen was done, Anastasia's story was meant to continue.
It's a concept that's a little hard to wrap one's head around until you remind yourself that they're in Wonderland.
The end was surprising, although wonderfully happy. In a turn I never expected, Alice and Cyrus chose to go back to England and get married. In yet another twist, Alice's father gave her away, her step-mother and half sister were there, as well as the White Rabbit who married them. Is that legal in England?  
Will and Anastasia choosing to go back to Wonderland surprised me a bit. It seemed as though she wanted to head back to Sherwood, but she and Will were going to help put Wonderland back together. I guess the war with Jafar had done some damage. 
Years later, having Alice read her adventures to her daughter was a lovely way to end the series. If only we knew if she and her friends were ever reunited once again.
If you were able to see future stories with these characters, whose stories would you choose?
C. Orlando is a TV Fanatic Staff Writer. Follow her on Twitter.