Much like real life weddings, Modern Family Season 5 Episode 24 experienced some rocky patches before hitting its smooth stride and getting a happy ending.
Also Phil Dunphy's middle name is "Humphrey." Yep.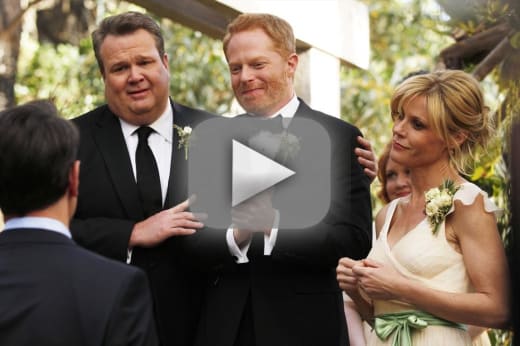 After all of the bumps Mitchell and Cam hit in Modern Family Season 5 Episode 23, people were hoping things would finally get better. With Pepper at the helm, there was no way this wedding was getting called off without a fight.
First, he charmed the firefighter into getting 30 minutes, then Sal's water broke, then the wind picked up moving the fire even faster. Good thing Phil got himself ordained on the Internet. Now on to Plan B- To the Shuttles!
Wait is fire weather?

Haley
The space that Pepper found last minute would have been great until the runaway bride decided to come back. Uh... word to the groom: you might want to be the one running away from her. 
On to Plan C: Cam and Mitchell's home. It was not big enough to fit the guests and things kept falling apart by the minute.
There was still tension between Jay and Mitchell, Claire's ugly dress was falling apart, Lily was out of petals, the altar was destroyed, half of the quartert were volunteer firefighters, the food was missing, Merle and Barb were fighting, etc.
Jay: I didn't mean for her to get hurt.
Gloria: Not her, he when he realizes not every second wife looks like this.
Also, the writers were trying to have Phil come up with a magic routine and while normally (and regular readers of my reviews know this) I ADORE Phil, I really just wasn't feeling the magic attempts this week. Moreover, the Manny and Luke acting like an old married couple bit was funny at first but got a little tired. 
I'd say my favorite parts of the Modern Family Season 5 finale were Haley and Andy and the ending.
Haley likes Andy. He is different from every guy she's ever known and dated. When she admitted she knew Beth because she was a Beth, it was such an honest moment that you don't normally expect from the eldest Dunphy.
I just wish Andy came back at the end after he drove away. Oh well, here's hoping that something will happen between them in Modern Family Season 6. Alex was right, Haley should be sure she's into him and not just stringing him along.
Now about that ending...did anyone really thing that the Emmy-winning sitcom and most beloved comedy on television was going to close out the season with tension between Jay and Mitchell? No.
Jay realized how hurtful he had been to Mitchell and did the best thing he could think of to make up for it: he saved the day and had the wedding at his club, in front of all of his cronies who may or may not have known he had a gay son and he threw that party proudly. 
The best part though was when he told Mitchell, they should take a little walk...down the aisle. You're damn right I teared up when Jay and Gloria walked Mitchell down the aisle and Merle and Barb walked Cam down. That's the way it always should have been.
What did you think of Claire's big speech?