After a very Scarlett-centric installment, Nashville shifted back to the worlds of Rayna and Juliette this week.
Nashville Season 2 Episode 21 started off with Juliette sobbing in the shower in a world of guilt.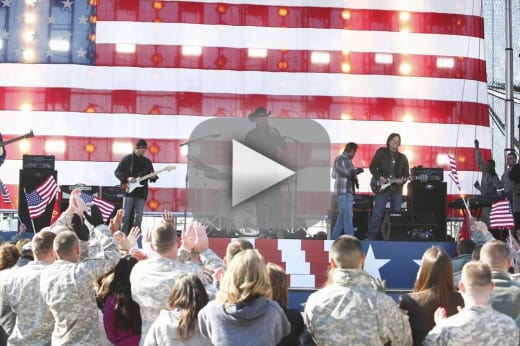 Hun, there's not enough soap to scrub off the shame of cheating on Avery with Jeff Fordham.
Gunnar: I saw her and Jeff Fordham sneak out of the screening at the BMI party last night.
Zoey: So they watched a movie?
Gunnar: Yeah only it was NC-17 and they were both starring in it!
Look, I know Juliette has so many issues, I'm not ignorant to her past. People have slip ups and sometimes regress. Cheating just doesn't fly with me. Juliette needs to keep her jealousy in check because it leads to her making dumb decisions!
I will say that she returned this week to being the girl I was growing to really like in Nashville Season 2. Have we ever heard about Juliette's father before? I'm glad Rayna stood up for her and Luke realized he was making some judgments without really knowing her. Loved their duet!
However, the highlight of the episode had to go to Maddie, Daphne, Rayna, and Deacon performing "A Life That's Good." That song combined with everyone performing for the troops just got me all emotional.
It's actually the track that the cast performed at the end of the Nashville concert in NYC Tuesday night and you bet that the whole crowd was singing along.
I want to say that I don't understand why Luke was so edgy about telling Rayna he loved her, but sadly I get it. That chemistry she has with Deacon is undeniable. His apology at the concert was just perfect. He even made an effort with Teddy.
I told you I was never gonna forgive you for not telling me about her 14 years ago and I'm not. Because that would mean you did something wrong. You didn't. You were just protecting our little girl. I finally get that.

Deacon
It looks like the love triangle is going to hit its peak on next week's finale. This week was a great episode with guest appearances by Michelle Obama and Kellie Pickler. It did leave us with a lot of questions, though.
Where is Scarlett going? Is Will going to cheat on Layla? The one I'm going to leave you with tonight is about our dear Juliette.
Should Gunnar have told Avery that Juliette cheated? Vote below and sound off in the comments!