The Mindy Project Review: Screw You Bradley Cooper

Chris O'Hara at . Updated at .
I think I need Danny to bring me some chicken soup and a copy of the Guiness Book of World Records - because I feel sick.
Last season, The Mindy Project spent many an episode trying to figure out just what kind of show it was going to be. By the end, Mindy and her cast had figured out how to write a prescription for laughter on a weekly basis.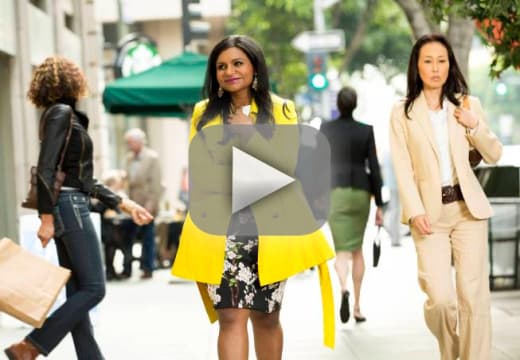 As the new practice took shape, so did the characters who worked there.
This season far surpassed the previous, with additions like Adam Pally's Peter Prentice proving as endearing a character as the other leads on the show.
What we got tonight, on The Mindy Project Season 2 Episode 22, was such a let down and disappointing finish to what had been a superb sophomore season.
Mindy and Danny gave their feelings for each other a shot... and it ended poorly. For the most part, I got the feeling this sequence of events was okay with fans. It was exciting to see them finally break through all that sexual tension and take a leap.
But like Danny, I didn't want to see their weekly banter die out along with their relationship.
Mindy and Danny both moved on and started dating other people and, along the way, slowly rekindled their friendship and even resumed a little flirting now and again. 
I thought Danny being jealous of anyone Mindy dated or brought home was an angle that could have been played out longer. Danny trying to out Staten Island Charlie in front of Mindy was one of my favorite scenes of the season.
Danny had lost some credibility in recent weeks, if you ask me. Then there was this twisted Catfish plot here. I wanted to feel for him as he pleaded with Mindy to believe him when he told her he loved her. Like Mindy, I wasn't buying it either.
Then at the end, after her coworkers convinced her to give Danny another shot, they find him sitting at a pizza parlor having given up on Mindy after only an hour?
Then we had to suffer through watching Chris Messina try to run, as Danny rushed back to the "Emperor State Building" as Jeremy called it.
Two clichéd songs later, Danny takes Mindy in her arms, on a trash laden observatory deck, and they zoom to talking about how many kids they are going to have?
My love for this show won't be as fleeting as Danny's feelings for Mindy the first time around, but tonight's episode was a real shot to my thoughts on it's future.
I need to take the summer to see some other programs and see how I feel. After this finale, I think it might be for the best.