In an unexpected development, witches are becoming a back story as the friendship between Cotton and Alden takes the forefront on Salem - and that's perfectly okay.
It seems difficult to imagine that the chemistry between Seth Gabel and Shane West would outweigh that between any of their female counterparts, but it's certainly what happened. The moments between Cotton Mather and John Alden are what make Salem essential viewing.
It's never been more apparent than it has been since Increase Mather hit town. On Salem Season 1 Episode 8, Increase sits right in front of his son and tells Alden how much he admires his family and his sacrifice to keep fellow citizens safe by joining the war. Nothing his son has learned or done is enough for Increase.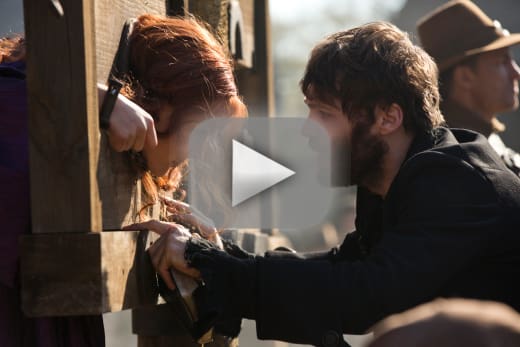 Cotton is too beaten down by his father to even care much. He's in love with a whore, who his father proclaims a witch not because she is one, but because she is guilty of bewitching his son. 
The central conflict in "Departures" is between Cotton and Increase as father tried to teach son what he needs to do to get to the next station in life. Increase expects his son will one day be Governor and removing temptation from his midst now is essential to that path.
Despite the praise Increase showers upon Alden for his many heroic efforts on behalf of humanity, Cotton doesn't get jealous. He's well aware of what his father thinks of him, and once he realizes what Alden's effect upon Increase could mean, Cotton appeals to Alden.
You're right. No man should be asked to humble himself before my father. I have been in Salem for months. I've made allies and enemies in scores, but the closest thing that I have come to a friend is you. So I ask you, I beg you to appeal to my father, if there is some small part of you who can call me a friend, too.

Cotton
Taking Glorianna so soon after Cotton realized he was in love with her proves almost too much for him. During Salem Season 1 Episode 7 I wondered if Cotton would hold to his promise to her that everything would be different once he had the chance to sort things out.
Thankfully, he was as true as one could be under the circumstances. When faced with the reality of Increase's intentions toward Glorianna, Cotton did not hold back his feelings and while he didn't raise a fist against his father, he did raise the most important topic he could.
Cotton: This is what I have been trying to tell you and now I see it to be true. That in our zeal to rid Satan from our midsts we were instead killing innocents!
Increase: Do not presume to instruct me.
Cotton: We are doing the Devil's work for him!
Somewhere along the way, after thinking and thinking some more about the riddles Rose laid upon him and Alden, Cotton came to the realization that the witches are making a mockery of the citizens of Salem by having them turn against one another. 
Alden's appeal to Increase didn't work in the way Cotton intended, but at least Glorianna lived. She cannot show her face in Salem for as long as Increase is in town, but if Cotton is true he will find her and raise her up above her status and claim her as his love. The door is open.
While I should be worried about Mary and Increase's intrusion into her life with George, I'm not. Even with George, free of Mary's familiar, in the hands of Increase, and Increase's belief that George was never sick, but spelled, I still have faith the Mary will prevail.
What will be interesting to discover is who she will throw to the wolves to save her own ass and that of her coven. Somebody is going to have to take the fall. I don't think the accused witch who poisoned herself will be enough to satisfy Increase, although Mary could make the connection once she realizes it's there for the taking.
If George would be so good as to die (no offense to the actor, but lawdy he is much more effective with a frog in his innards) and take his leave of Salem, then it would be the most amazing twist if Increase would ask for Mary's hand in marriage. Using his power, and hers, it would be difficult for her to refuse. Keep your enemies closer, as they say. 
Additionally, as much as I would love to say Mary and Alden make a good couple and one worth fighting for, I'm not buying it. Their scenes are nowhere near as powerful as the friendship felt between Cotton and Alden. If Alden were to take to Mary again if George died, it would affect his friendship with Cotton and I don't think anyone who writes or watches wants to see that happen.
Anne is continuing her research into her father and has gone to Alden to share with him her beliefs about Magistrate Hale. Even though she is a young woman, her determination and refusal to by into the town's lies make her a more appealing match for Alden.
I would like to see Tituba take the fall as a witch. She doesn't have any friends or family in Salem and her only purpose seems to be to usher Mary through her witch duties. Perhaps Mary has learned as much as she can by now.
Until that time, I want more of Alden and Cotton. Their adventures and mutual, if reserved, respect for one another is what can make a sleeper hit into a cult phenomena. Their cares and humor make their every scene delightful.
I you have yet to see this amazing show or need to catch up, you can watch Salem online. Don't forget to check out the Salem Quotes section, because all the best are there for you.
Are you worried George will spill information about Mary?
Carissa Pavlica is the managing editor and a staff writer for TV Fanatic. She's a member of the Broadcast Television Journalists Association (BTJA), enjoys mentoring writers, wine, and passionately discussing the nuances of television. Follow her on Twitter and email her here at TV Fanatic.