Oh my... how fun was that?!
It's always awesome to hear someone validate what I theorized previously -- that Sorenson was patient zero! He may not have been the first person with the virus, but he's the person who weaponized it, causing the unnecessary deaths of four billion people.
The good guys win again in The Last Ship Season 1 Episode 8, but not without the token killing.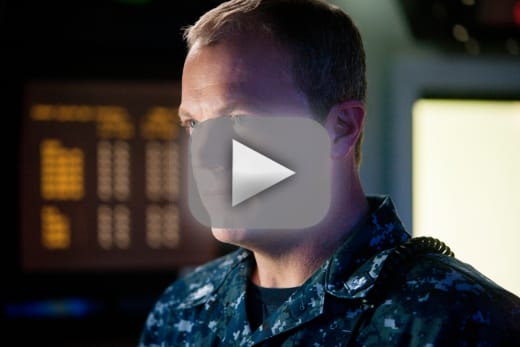 Both Chandler and Tex were on the ship and in a nice little cage. Of course, their sense of humor never escaped them, even while planning their escape. The Russian language barrier proved particularly fruitful in that endeavor.
Russian: Hey! No talk! Or I kiss your ass.
Tex: You mean KICK my ass!
Russian: Just shut up your head, OK?
It was really cool of Chandler to put aside any animosity he had for Quincy when he met his wife, Kelly, and daughter, Ava, up close and personal. He treated them exactly as he would have hoped someone would treat his own family and that's what makes him a hero.
Chandler hardly had any desire to play nice with Ruskov, so he didn't. Who can blame him for playing the tough guy role? That's his job, dammit. Plus, he had to engage in more banter with Tex!
Tex: How about The Great Escape?
Chandler: It's kind of hard to tunnel out of a ship.
Tex: You got a point there. Have you ever seen Papillion?
Chandler: Are we just doing Steve McQueen flicks? What about Escape from Alcatraz?
It's not a secret that Tex is my favorite character. There is often a Tex in this kind of entertainment, but sometimes they don't work out as good as the portrayal by John Pyper-Ferguson. I daresay I have developed a crush on him. If The Last Ship ends, I vote Tex gets a spinoff. I'm thinking of something like Sahara (with Matthew McConaughey and Steve Zahn). That goofball done good kind of thing.
To that end, Rachel has also really grown on me. At first she was cold and a little standoffish. After she and Tex talked and he pointed out that it probably wasn't as bad for her with the crew as she imagined it in her head, she's really warmed up. Even Slattery couldn't help but be in awe of her bravery.
Seriously, that was extraordinarily brave -- heading to a Russian ship, armed with a gun they may see and wearing a tracking device. If the Russians weren't so afraid of the virus, they would have found the gun and she would have been killed or tortured. Probably the latter as Sorenson wanted her.
Why did Sorenson want her, exactly? Just for the primordial strain or does he have a little crush on her from watching her from afar during a medical conference? That's taking your Med-Con experience a step too far, don't you think? 
That evil little breathing thing he does (OK, really, breathing in general isn't his thing. It kills) to infect mice worked pretty well on the "vaccinated" Russian. What option do we have, though, other than testing on humans? Since it's a human gene, won't the human body have to accept it even if monkeys show no signs of further illness?
The token kid we got to know when he was plucked out of obscurity for his role after another token kid died, well, died. Poor Cosetti. We hardly knew ye, but ye were a brave one. The more Danny asked him if he was ready to step up the more obvious it became that he wasn't coming home.
Does anyone hold any love for Danny or, for that matter, Kara? All these other sailors might have much better story than they were laden with because, let's face it, the romance thing really fizzled out quick. I'm all for getting to know one of the nubes and losing Danny, Kara or the pair before the end of The Last Ship Season 1.
You throw things at the wall to see what sticks, and if we're going to have a romance on board the ship, it's going to be between civilians -- namely Tex and Rachel. Who's with me??
Now we have two scientists back at work, a partial vaccine and the immune girl. Sorenson could have bobbed off into the ocean on a life raft to infect the rest of the living world (isn't that what his cute sailor costume in the hallway was supposed to suggest?), but we have the primordial strain. 
Which begs a question. How much primordial strain was there and aren't they going to run out eventually? If the monkeys die at such an alarmingly fast rate, you'd have to think what little strain they picked out of the Arctic would go quickly as well.
This was another super fun installment. We should have seen the last of the Russians (that vessel at least), Quincy is reunited with his family and Slattery knows he can handle the ship in Chandler's absence. Champagne all around! If you've missed any of this fast-paced fun ride, you can watch The Last Ship online via TV Fanatic.
Are you ready for a Tex/Rachel romance?
Carissa Pavlica is the managing editor and a staff writer and critic for TV Fanatic. She's a member of the Critic's Choice Association, enjoys mentoring writers, conversing with cats, and passionately discussing the nuances of television and film with anyone who will listen. Follow her on Twitter and email her here at TV Fanatic.