Well, that was utterly devastating.
In Haven Season 5 Episode 2 it's discovered that the particular Trouble that Duke is pulling upon is triggered by denial. Anyone who has the capacity to tell him Jennifer's gone is sewn shut to keep them from sharing the news. See no evil, speak no evil... never know your loved one is dead. If only that worked.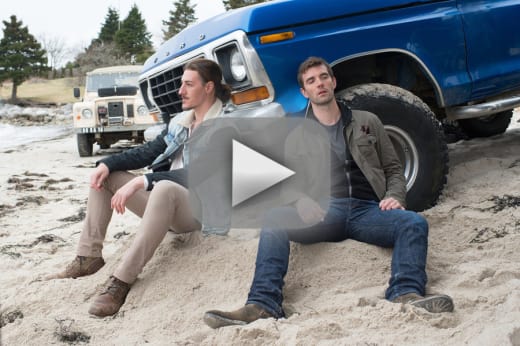 Haven Season 4 was a rather dismal year. After three seasons of waiting for Nathan and Audrey to find each other, Nathan's hookup with Sarah and even fathering her son, they got together so quickly that a lot of the romance was missing. We were denied the crescendo resulting from seasons of waiting and only got a day after as a beginning.
It was odd and more than a little bit anticlimactic. I mean, I like pancakes as much as the next girl, but not in place of some real lovin'.
Then Jennifer, who Duke met after being spit of our the Bar(n), won us over and we were given a true romantic storyline the like of which we had hoped to have from Nathan and Audrey. Duke fell in love and so did we; with Jennifer and with the refreshing love and trust they had for one another.
If only Emma Lahana (Jennifer) had returned. When Duke was telling Nathan and Gloria how much he would miss her, it was impossible not to be right there with him. Duke was the character that held the entire season together last year and his partnership with Jennifer was beautiful. Now it's gone.
We did get a worthy performance from Eric Balfour as a minor reward for her departure, but it seems impossible that Duke will trust as easily as he allowed himself with Jennifer any time soon. Nathan's proclamation that he wouldn't let Jennifer's death be in vain because he would turn Mara over to the Guard so they could get her to stop the Troubles has to create an unbearable rift between him and Duke.
Nathan couldn't help himself from kissing Mara as a form of goodbye before he left her for the Guard, and that kiss caused Audrey (we think) to bubble up from inside Mara. For years Audrey was the dominant personality inside Mara, but she's also tricked Nathan before. The handsome ones are always so easy, right?
There's always the possibility that Mara is still playing Nathan. He fell from her charms once before by way of a bullet. She could have easily played him with the Audrey trick. 
When Duke discovers that Nathan went back on his word to deliver Mara for retribution and to put an end to the Troubles, Duke is likely to release a whole lot of other troubles, ones linked to anger, revenge, loss, betrayal -- you name it and it would fit.
With so many people using Vicki and her drawing Trouble to manipulate things in Haven, it's impossible not to wonder if she'll be Duke's next love interest. Duke is the most compelling character on the series and to rush him into another relationship wouldn't feel true, so let's hope he's able to direct his attentions elsewhere for the time being. 
When Haven began, Duke and Nathan were frenemies. Their full transition to friends took some time. It wouldn't be a distraction for Duke to see a little evil in Nathan and his desire to save the woman he loves when she cost him Jennifer. A return to the way things started might be refreshing in light of so many changes.
This hour was much improved over the season opener. What are your thoughts? Did watching Duke suffer rip a little piece of your heart out like it did mine? Hit the comments and let's chat!
If you want to relive the romance that Duke and Jennifer shared, you'll have to watch Haven online. I'm so sorry, but at least we make it easy for you at TV Fanatic!
Carissa Pavlica is the managing editor and a staff writer for TV Fanatic. She's a member of the Broadcast Television Journalists Association (BTJA), enjoys mentoring writers, wine, and passionately discussing the nuances of television. Follow her on Twitter and email her here at TV Fanatic.