Nashville Season 3 Episode 1 Review: Who Did Rayna Choose?

Amanda Steinmetz at . Updated at .
It's been a long summer, y'all, without the glory that is Connie Britton's hair.
I'm only half-kidding! After last season's cliffhanger, Nashville Season 3 Episode 1 found Rayna James in the midst of a difficult decision: Luke or Deacon?
There were a lot of tough decisions being made throughout the hour, so let's dive in!
Oh, Rayna! Why must you do this to us? I was sure this episode would end differently. I'm not saying I assumed she would pick Deacon, but didn't anyone else out there think she was going to pull a Kelly Taylor and 'choose herself'?
Like everyone else, I believe that Deacon is Rayna's true love. However, that doesn't mean they should be together right now. Both of them have a lot to sort out within themselves before they can be together. Can't Rayna just be on her own for the time being? It's  also unfair to put Luke through the ringer when we all know how this is going to end.
Deacon's declaration of love was heartbreaking. He was trying so hard to hold onto the hope that they would be together. You could even see her resistance waning. It' be impossible not to feel terrible for him when she didn't show up at The Bluebird.
Don't do it Rayna. I know he's the safe choice, but he's the wrong choice.

Deacon
Over in meltdown city, Juliette was struggling to keep it together long enough to get through her audition to play Patsy Cline in a biopic. No one cries like Hayden Panettiere. You could feel all the pain inside her as she cut off her hair. I'm digging the shorter hair by the way!
Considering it's old news that Hayden Panettiere is pregnant, it was not a shocker that Juliette's pregnant. The question now is who's the father? I really hope its Avery's! Juliette does not need to be tied to Jeff.
In other news, I finally tolerated Scarlett for an episode. It was nice to see the three of them bond on their road trip. Drunk Avery is a funny Avery. It was nice to see Gunner convince her to stay, and I hope it was out of friendship. The last thing anyone needs is another love triangle.
Poor Layla! You had to feel for her when she asked Will if he ever loved her. It's not surprising that they're being blackmailed by the producer. We knew that hidden footage was going to come to light at some point.
It's only been one episode but the drama is already heating up. What did you think of the premiere? Do you think Rayna made the right choice? Who's baby do you think Juliette's carrying? Sound off below, and don't forget to watch Nashville online in case you need to catch up!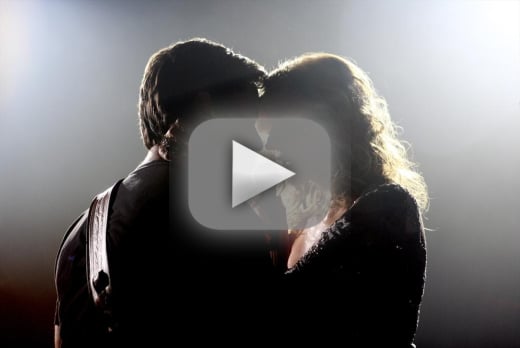 NOTE: And remember to visit our Nashville music section to download the latest tracks!
Amanda Steinmetz was a staff writer for TV Fanatic. She went into retirement in June of 2027. Follow her on Twitter.