I've watched New Girl since the very beginning.
While it has frustrated me with the inconsistencies of the last couple seasons, I have stuck with it. After tonight's episode, I am just not sure if I can put on a fake smile anymore.
It's like that relationship that you're just not ready to give up on. You want to believe that maybe, just maybe, they will go back to the show that you once loved and laughed with. You want that quirky, season 1 comedy that it used to be.
New Girl Season 4 Episode 2 just left me confused about what this season is shaping up to be about and what is going to happen to the characters as well.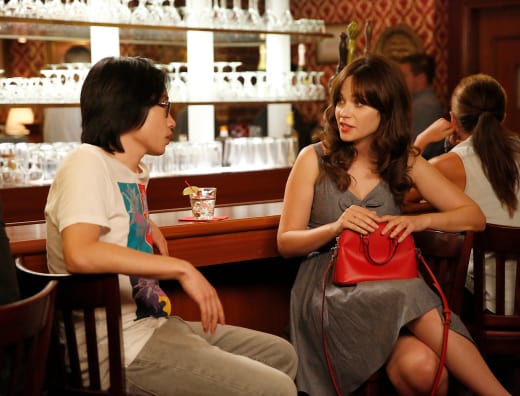 I understand that tonight's episode was supposed to be light hearted and fun but what -- are we just ignoring some of the bigger storylines?? Let's discover how Nick and Jess truly feel about the end of their relationship. It just feels that the writers just skirted over any type of resolution and have erased the first half of New Girl Season 3 from memory.
The saving grace of tonight's episode was definitely the pairing of Cece, Nick and Coach (partaking in some pot brownies) and Winston trying to fit in at the police academy. I do question, though, when a show starts doing "pot gags" have they run out of things to write about?
Jess going on a bunch of awkward dates thanks to the app, Dice, just seemed forced and I became uninterested in it. I usually enjoy seeing Schmidt and Jess paired together but this time is just was not that funny and it seemed really phoned in. It also seemed like the actors didn't put a lot of passion in this part of the story. 
I did have some hope when Jess finally got to have a date with Mr. Dreamy Eyes but was quickly disappointed when they made him an awkward date as well. 
The ending was awkward as well, you'd think that the writers would have gone with seeing the friends coming down from their high but they went with Jess's awkward date. While I get irritated with pot gags, it possibly could have saved the episode by adding in Schmidt encountering his strung out friends. 
It is just not encouraging to have what I call a "filler episode" so soon into the new season. 
New Girl, I just don't know what to do about you. I don't want to quit you but you just disappointed me tonight. I'm going to go get my Ben & Jerry's, curl up on my couch and watch New Girl Season 1 and think of how the way things used to be. 
What did you think of tonight's episode of New Girl? Do you think they have lost that spark they used to have? Did you want more closure on the Nick/Jess relationship?
Don't forget, if you want to remember the way things used to be, you can watch New Girl online via TV Fanatic!
Samantha McAllister was a staff writer for TV Fanatic. She retired in November 2018.