Cristela Season 1 Episode 3 Review: Mr. Felix & Ms. Daniela
Whitney Evans at . Updated at .
It's been a long time since a Friday night comedy made me laugh this hard. I think I'd have to go all the way back to my childhood when TGIF was all the rage and I thought I was going to marry Uncle Jesse. 
It's nice to see that ABC has found itself a nice Friday comedy that can be enjoyed by everyone. It's got just the right amount of humor and heart to really keep you smiling 
On Cristela Season 1 Episode 3 the jokes were coming fast and furious, even though the sisters had a rift due to a misunderstanding.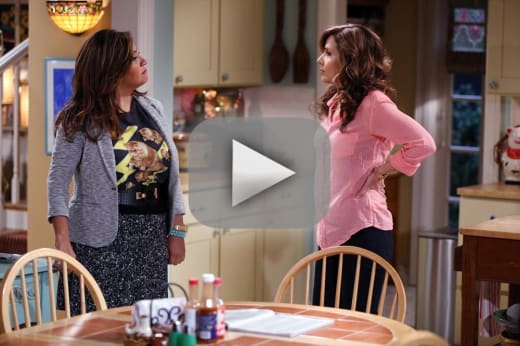 When I saw the description for the episode and read Cristela is mistaken for a nanny, I didn't know what to expect. She gets mistaken by a friend of Daniela's, whose son is friends with Henry. 
Wendy: Daniela, I love Cristela. Where did you find such a great nanny?
Cristela: What? No, no, no, I'm not the nanny.
Daniela: Cris is so much more than that. I can't imagine life without her.
Cristela: You might want to start.
It's set up where you could see why the mom could maybe get the impression Cristela was the nanny. She's caring for the kids and at one point Daniela tells her to make sure the kids do their homework and Cristela remarks that she does that everyday. So while Wendy definitely comes off as very snobby, I could see why she might think Cristela was the nanny.
If you get the chance to watch it again, just look at Cristela's face during that entire scene. The faces she makes are priceless. 
Daniela doesn't correct Wendy because she's hoping to gain a spot in Wendy's committee, which raises money for a fancy magnate school she'd like to send her children too. Cristela plays along for a while, but when Wendy begins to take advantage of the situation Cristela has had enough. 
Surprisingly, Felix is the one who shows Daniela how wrong she is for not sticking up for Cristela. 
Daniela: Cristela is just, she's being so stubborn.
Felix: Uh huh.
Daniela: This is where you take a shot at her.
Felix: Uh huh.
Daniela: Felix, I just said Cristela's being stubborn.
Felix: Okay, you know I love you. Cristela takes care of the kids. And you let Wendy call her the nanny. Now your Mom cooks and cleans and you would never let Wendy call her the maid.
Daniela: You know I wasn't looking to have a conversation. I just needed you to agree with me.
This is the heart of the show that I love just as much as the humor. Felix and Cristela bicker and they may never see eye to eye on anything, but when she is being wronged he will stick up for her because she's family. Even if his own wife is the one doing the wrong. 
Elsewhere, Alberto is still hot for Cristela and this week he offers to put together her new bed. I am still firmly on the Jostela train, but how freaking cute is Alberto? He's hilarious, charming and he clearly cares a lot about Cristela. 
She spurned his advances yet again, but I think it's just a matter of time before he gets that first date!
Even though the office scenes have Josh, they also have Trent and Maddie who I just haven't connected with yet. Trent is still making a lot of inappropriate jokes and Maddie doesn't have much to do but pop in and say something silly. 
This week the interns are tasked with making Trent the perfect cup of coffee. Josh is declared the winner, going so far as to visit the widow of the man who made Trent's coffee for the past twenty years.
I wasn't as into this plot as the other two and I'm hoping the show will figure out a way to really make the office scenes pop. So far they don't compare to the scenes at home. 
Even with the weaker office plot, I loved this episode even more than Cristela Season 1 Episode 1. And I didn't even touch on Natalia who was on fire tonight with some great one liners you can see in the Cristela quotes section. 
What did you guys think of the installment? Are you liking the office scenes? How funny and great is Alberto? Do you also want Cristela to be your best friend?
Continue to leave your thoughts and remember to watch Cristela online via TVFanatic anytime!
Whitney Evans is a staff writer for TV Fanatic. Follow her on Twitter.