Nashville Season 3 Episode 5 Review: Road Happy

Amanda Steinmetz at . Updated at .
Here's a tip for all the ladies out there: Never text a guy that you're pregnant.
Unfortunately, Juliette didn't get the memo this week on Nashville Season 3 Episode 5. 
If she and Avery ever hope to become decent parents, they better start fixing their relationship ASAP!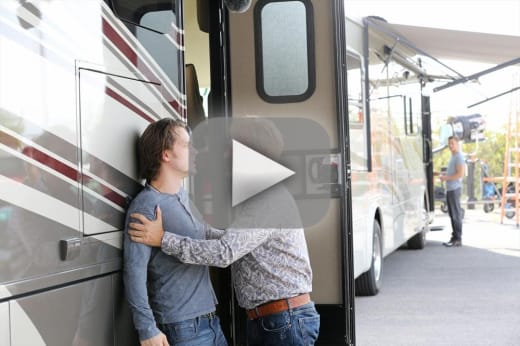 I get that Juliette was upset about the awful things Avery said, but this was not the mature thing to do in this situation. To make matters worse, Avery gets the text when he's about to start community service. Nice timing Juliette! 
Since she won't return any of his calls, Avery goes to the movie set and causes a scene in front of her trailer and Noah. I thought this sequence was great, as it showcased Glenn's devotion to Juliette and her unborn child. Glenn wants Juliette's baby to have a happy life, and Avery isn't helping matters at the moment by yelling and acting out. 
I'm definitely in agreement with Glenn. Avery was once a great influence on Juliette. He was grounded and rational, but now he's just a complete mess. The one thing about this whole scene that was ludicrous was the fact that Avery was able to walk onto a movie set like that. That's either one terrible PA or there's some lazy security guards on set. 
I'm concerned about Avery after his conversation with Gunner. I know he feels defeated right now, but I have no doubt he would make a great father if he got himself out of this hole he keeps digging for himself. This wasn't how he imagined having children, but life doesn't always go the way we had planned.
Avery: I always thought by the time I had kids, I'd have the whole deal. You know, wife, house, yard... grill.
Gunner: You have a good apartment.
Avery: I have a sad-dad apartment.
Noah was kind enough to Juliette to help her out during the love scene, but I'm still skeptical. He's too perfect so far to be real. It would be nice if he was a friend for Juliette to confide in and not a romantic prospect. She looks like she'll be in need of support after her fainting spell. I really hope there's nothing wrong with the baby, but you never know which way writers will go with a pregnancy storyline.
I feel like this whole episode was about what it means to be a parent. While Juliette was dealing with her pregnancy drama, Rayna was struggling on the road. It was nice to see Daphne in the spotlight instead of Maddie for once. I can deal with Daphne's temper tantrums more than Maddie's. Daphne is younger so it's more understandable. 
Rayna and Luke made an effort to get their kids together, but there's something that just isn't clicking yet for this soon to be blended family. How annoying was Luke's son on the plane? What a spoiled brat with his $1500 headphones. Nice job Luke!
To make matters worse, Teddy was being worked over by Jeff into becoming the "cool" parent. I know highlights and ear piercing isn't the end of the world, but he should have given Rayna a heads up. Even though they're divorced, they still need to work together.
Jeff makes everything worse, doesn't he? After he told Will to make Tony sign a nondisclosure agreement, Will completely shut down on Tony. Will has had opportunities for real, romantic connections, but he continues to make the wrong choices.
I guess it's easier to deny needing the occasional hookup, then actually being in love with a man. Isn't it?

Tony
Then, he goes and gets himself beaten up. I'm not clear on what was supposed to be going on here. My understanding was that the park was known for casual encounters. Let me know if I'm mistaken.  
I get that it was supposed to be a dramatic scene, but all I could really think about was "Welcome to the OC bitch!". Sorry, I couldn't help it! Luckily for Will, it seems Deacon could be a potential confidant.
Jeff was also there to make Layla feel even worse than she already does. I'm not sure if the breaking of the mirror and blood was foreshadowing that she will hurt herself, but that's where my mind went when watching that scene. 
Another tense situation arose this episode with Gunner not only finding out that Kiley has a son, but that her son is Gunner's. Didn't I call this a few weeks ago? I'm so annoyed with this plot development. We have enough parenting drama on this show already. No more! 
Not that many performances to pick from this week, but I loved watching Zoey have her moment to shine when she took over for Juliette on "Tell that Devil".
Zoey was totally in her element, but this is going to go one of two ways: Juliette will be furious at her for stealing the spotlight, or this will be Zoey's breakout moment and she'll get new opportunities. 
And in other news, Scarlett made friends with a homeless man. Yep, that's what happened with her character this episode. The end.
So over to you guys! What did you think of the episode? Are Juliette and Avery fit to be parents? Will Rayna continue to feel absent from her daughters' lives? Is Will setting himself up for exposure with so many close calls? Sound off below, and don't forget you can catch up with all the drama when you watch Nashville online.
Amanda Steinmetz was a staff writer for TV Fanatic. She went into retirement in June of 2027. Follow her on Twitter.