NCIS Los Angeles Stars Tease Nell's Recovery, Possible Future For Nell and Eric
Jim Halterman at .
NCIS: Los Angeles is known more for being a high stakes/action-packed drama than a comedy.
But after my recent chat with stars Renée Felice Smith (Nell) and Barrett Foa (Eric), it was easy to see that the intensity of the job is not following these two off the set when they're doing a full day of press side by side.
Trust me, their collective bubbliness was a very good thing for a lively chat to talk not only about what we'll see in NCIS Los Angeles Season 6 Episode 4, but also to show just how much fun they're having working on the popular CBS series.
The twosome talked about Nell's road to recovery from her first kill, how Nate Getz's return will stir things up and whether we're going to be seeing any movement in the Nell/Eric relationship. Let's see what they had to say...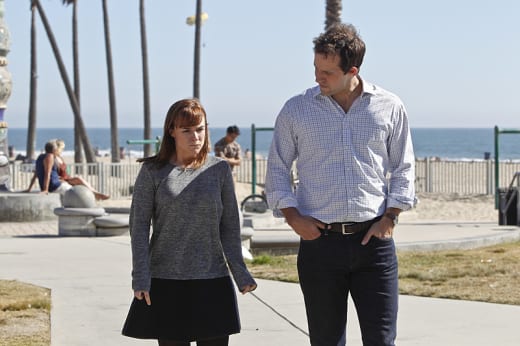 TV Fanatic: Nell is in such a fragile place. Can you talk about what we're going to see her go through?
Renée Felice Smith: Basically, in the last episode she had to defend herself and she had to shoot one of our baddies and we're going to see her grapple with that decision and she's really on the fence about returning to work and whether this is the line of work she wants to be in. So she's in that fragile, shaken state and…
Barrett Foa: And you know it's serious because she's not picking up the phone when Eric Beale calls.
RFS: That's right! In one of the scenes, Eric leaves her a voicemail and she won't even pick it up so things are rough for poor Nell but Nate Getz, our good friend and psychologist, comes in to assess her and sees if she's up for it. And eventually Hetty has a conversation with her about her future at NCIS.
TVF: Do you think what she's going through is like a rite of passage for anyone in that job?
RFS:  I would think so! That's all I can do is put myself in the character's shoes so I would say  that would probably be the biggest hurdle in your line of work and see if this is really something you want to do and  if you can handle it.
TVF: Barrett, what is Eric's piece in this?
BF: [Nell is] on her own and he's kind of holding down the fort alone and he's trying to be there for his friend and co-worker but he's getting some radio silence so he knows it's pretty serious.
TVF: Do you think Eric understands what she's going through or is this foreign even for him?
BF: It's absolutely foreign territory for him, certainly, but he's seen the other agents go through it and now he sees his closest friend at work going through it so I think that affects him at an ever deeper level. But it's high stakes and we're defending our country and defending our lives so he knows it's all a risk. As we'll see down the line in a couple of episode, Eric has to defend himself. Our headquarters is infiltrated and there's a mole inside the office…and not the animal kind!
RFS: These people are under high stress situations at work, which is something we normal folk really have as a luxury! These people are really doing amazing work for our country.
TVF: Nate is back and we know he has a history of some kind with Nell but how does Eric feel about him being back?
BF: Eric doesn't like it!
RFS: Eric's jelly.
BF: Eric is a little jelly. But Barrett is happy because we love Peter Cambor…
RFS: We love Peter!
BF: But as much as I like [Peter] I think Eric gets a little p.o.'d because Nell and Nate have a little bit of a past and we don't know how much or how little but Eric has been jealous in the past. Nell has gone so far in the past to tell Nate that they have kissed.
RFS: I will say this - whenever Nate Getz does come back we bring the apple crates out for me to stand on because he is the tallest guy on Earth!
TVF: With Nate back, are we maybe going to see Eric make some overtures that the audience has maybe been waiting for him to make?
BF:  I think that's imminent. It's definitely imminent. I think it's going to kick some things into high gear.
RFS: We just did an episode where Eric and Nell come to blows with one another. [laughs]
BF: You really only fight with the people you love the most.
RFS: Nell has to kind of slap him back to reality!
BF: That was a rumor! Don't read too much between the lines but let's just say my cheek was red!
RFS: Whoa!
BF: Not that cheek, Jim! [laughs]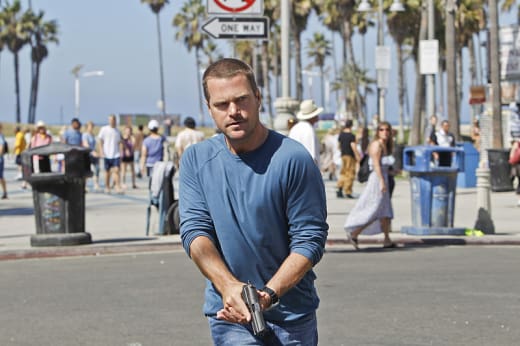 TVF: The episode this week is also a lot about Hetty being questioned and the Department of Justice in the office going through all the files. At this point, can our team trust anyone at this point?
RFS: Everyone's in question and I think that's what this is all about. It's all a mystery.
BF: What's so cool about this team is that we play by the rules but we also go rogue a lot. We do not play by the rules and we dodge the parameters of what is by the book and I think that makes it exciting. We have to make sacrifices for what we think is right and a lot of that has to do with loyalty and friendship and our love for the team.
RFS: Love the team and love the game, baby! [more laughs]
TVF: Moving forward, is there a storyline or guest star you're excited for fans to see.
BF: Well, Meryl Streep…
RFS: …and Carol Burnett. They're playing our Moms in a coming episode. But that's old news.
TVF: Is that something you two are writing? Sounds like something you're creating.
RFS: We're going to pitch it!
BF: I do love that John Heard has been on the show as a recurring guest character.
RFS: From Home Alone! We also have Aisha Hinds, who plays one of our investigators at the DOJ and she's going a great scene with LL Cool J coming up where she kind of confesses her interest in him.
TVF: Barrett, when I talked to Shane Brennan a few weeks ago, I urged him to have you sing on the show if he could find a way to do it.
BF: It's been hinted at a few times…
RFS: Actually he did sing a bit of the National Anthem at the end of one of our scenes but unfortunately it was cut due to time.
BF: And it was pretty brilliant! [laughs] Always humble Barrett Foa! But [Eric] has been in the choir so they've been dropping little hints of it in so I'm waiting for that.
RFS: If my Dad gets his wish we will be dance studio owners and partners in an upcoming episode where we'll both be able to sing and dance.
BF:  It's what we do. It's what we love. 
NCIS: Los Angeles Season 6 airs Mondays at 10/9c on CBS. 
Jim Halterman is the West Coast Editor of TV Fanatic and the owner of JimHalterman.com. Follow him on Twitter.