NCIS Los Angeles Season 6 Episode 4 Review: The 3rd Choir

Carla Day at . Updated at . Comments
There were quite a few barriers in their way, but the Hetty v. Mattias showdown finally happened.
After several brilliant moves, Mattias underestimated Hetty and her team on NCIS: Los Angeles Season 6 Episode 4. He was able to infiltrate the sacred boat shed and Ops, yet wasn't able to close out his plan. He was taken down. It's not over though. Who is the leak?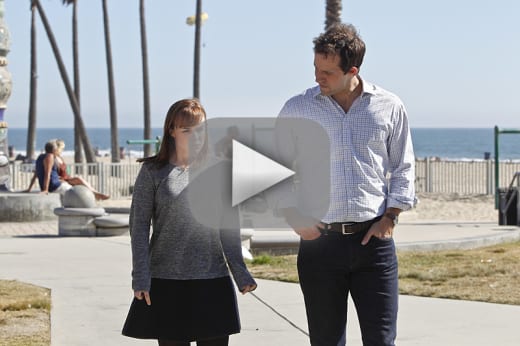 Despite the intensity of "The 3rd Choir," there were a few lighter moments. After Kensi and Deeks woke up on the couch together clothed in NCIS: Los Angeles Season 6 Episode 3, the status of their personal relationship remained unclear. They are great partners and friends, but is there more?
Kensi and Deeks were both quite awkward when Granger met them as they entered work together. They got their hands caught in the figurative cookie jar. If they are in a romantic relationship, they're handling the work partners and private relationship shift well. If anything, they appear to be stronger partners than ever before and that's excellent for their continued work relationship.
Investigator Wallace hitting on Sam was hilarious. Poor lady. How was she supposed to know he was married? I'm surprised she didn't further question why the file on him was lacking such important information. And, then she walked right into the line of fire with Mattias and Hetty. She was not having a good day. She was sucker punched by Sam's rejection, then shot not once, but twice. Despite her annoying investigation, I felt bad for her. She definitely deserved a drink.
The best moment of the hour had to be when Hetty just stood up and left the Congressional hearing after Thomas dismissed the idea that her team was her family. There wasn't a single moment of hesitation. Hetty showcased her unique ability to be formidable around anyone at any level. She will do whatever whenever to get the job done and keep people safe. Kudos, Hetty!
That was nearly topped by her jumping into the dumpster. She's one determined lady.
If there was a weak spot in the hour, it was that almost too much was going on. Callen was borderline rogue and taking questionable risks in order to track down Mattias. Nell was suffering from her kill shot. Nate showed up out of the blue to help her. Granger was supportive of the team and their mission, and Mattias appeared to be unstoppable.
The trail to find Mattias ended up being pretty convenient even if the team was led from location to location by Mattias. They were lucky to escape with their lives several times. That grenade was a slick move. Callen's lucky that Sam noticed it when he did or they would both be injured or dead.
In the end, Hetty's team had her back. Mattias' plan went awry. He lost the battle and Hetty even got even by shooting him in the leg. I loved how she was like "oops." Even though, he's now in custody, the challenges aren't over. Hetty will likely still have to answer the Congressional Inquiry, the Justice Department is still investigating, and the mole is still out there.
Who sold out Hetty? We'll have to wait to find out. Mattias may have caused some mayhem with his plan, though he brought the NCIS: LA team closer together and that's something. Do you think the mole is someone we know? What was your favorite moment? Who would you want to have your back?
Need more NCIS? Stop by and watch NCIS: Los Angeles online anytime!
Carla Day is a staff writer for TV Fanatic. Follow her on Twitter and on Google+.