NCIS Los Angeles Q&A: Eric Christian Olsen Teases Big Densi Scenes, Hetty Trouble
Jim Halterman at .
Big changes are coming for Densi on NCIS: Los Angeles Season 6 Episode 2.
Series creator Shane Brennan teased it recently in an exclusive interview, so we thought we should talk to one of the players involved in the Deeks/Kensi relationship.
What did Eric Christian Olsen tell us about what we're going to see and how audiences will probably look at the relationship differently moving forward? And just how will Deeks fold into Hetty's interrogation story and, also, the tough, competitive Monday time slot. Let's see what one of our favorite actors had to say...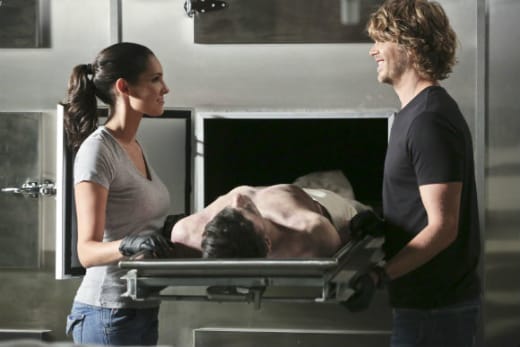 TV Fanatic: I talked to Shane Brennan recently and he made it sound like some big steps are being taken forward for Densi. Would you say that that's accurate?
Eric Christian Olsen: Yeah, I think that as the pieces fall on the floor and the person that you chose to put them back together with ended up playing the most kind of pivotal role in whatever that recovery is. I know that she's obviously still suffering from what happened to her in Afghanistan. The body reacts in really bizarre, interesting ways [due to] traumatic experiences. Deeks went through that and I think Kensi is going through her version of that, and it comes in waves, it comes in flashes.
I think we have one of those moments where Kensi's character in a very typical Kensi way, she tries to fight it. But they end up having this kind of conversation about it and it's one of my favorite scenes that we've done so far about their relationship, about navigating the walls of her defense.
I think one of the most powerful tools in her toolbox is the art of self-preservation and she uses that a lot when things get too painful or too emotional. To deal with kind of thinking step by step is learning how to navigate those with her and there's a really amazing scene that capitalizes on that.
TVF: How was it to shoot that scene because I'm guessing even as actors they are scenes that you guys have been kind of itching to play. Is that accurate?
ECO: I think you're always itching to play those scenes, and I think the beauty of a show like ours, though, is unlike, you know, family dramas where this happens every single week, the backbone of the show, is because we're inherently a show about NCIS and about all these crimes, and about these scenes that you get them once every seven episodes or so, you maybe get these juicy moments that are about characters, and they're about the emotion of the characters. And so, yeah, we loved getting those, and it's so fun to do them, because first off Dani is phenomenal. She's a great actress.
I don't know how other actors work, but it's like watching Lebron [James] when he's having one of those games where he scores 63 points. It just happens. And all of a sudden, you're just like, "That's it. That's the take." It's so honest. It's so heartbreaking, so real. And that's kind of my way to look at all the scenes, especially dealing with my own acting and Dani does it too, if you never feel as if you're being dishonest then the moments aren't honest then you've got to go again. These moments in this scene are so heartbreaking and so honest and they're one of my favorites so far.
TVF: Did you feel challenged differently, with these scenes than maybe what you've done in the past?
ECO: Yeah, because the stakes are always higher. Like when you go to these scenes in life, the repercussions if it goes wrong, you know, you're out there and you're putting yourself out there. When you do a scene like this, it's the same place, because you're asking your actors to go to this place and if any fraction of that is false, I think we as an audience detach from it. That's the great thing about Dani and this scene is they are nothing but honest and seamless, which is what I like to call that kind of acting.
TVF: Would you predict the audience might look at these characters differently after what we see in this next episode?
ECO: Yeah, I think they look at the relationship a different way. I think we have a general idea, kind of who these characters are. I think that Shane and Scott and Frank and all these guys have done such an amazing job with the slow reveal of these characters. One of the things I love most about them as writers is that it comes in the most surprising ways. We get to these places in the most surprising paths. And with this it's the same thing.
You know, these two characters especially, makes these turns on a dime. In one minute there's anger and then there's comedy and then there's honesty, and there's heartbreak. And I think that's what's true about any character, and that's what's true about life, really, the relationships.
TVF: I know in the episode there's something going on with Hetty and the case this week. How does your character fold into either one of those story threads?
ECO: I think it's kind of the best version. My favorite kind of version of storytelling for our show, which is that there's, instead of an A story and a B story, there's about four stories. And Hetty has been taken by the DOJ, Department of Justice, and is being kind of grilled for her role in Afghanistan about the white ghost, about Kensi and there's a cover-up and they want to know where the money came from. So, she's really being grilled, and in the meantime, someone has bought personal information about Hetty because they're coming for her.
So, we're tracking that down, you're dealing with Kensi and her own kind of struggle with what happened in Afghanistan and her past, and relationship. It's a really incredibly, layered is the B-minus word, but there is a, there's a lot of interwoven plot line in this episode. It's a really good episode.
TVF: From talking to Shane and now listening to you, it sounds like things are definitely more emotional this season than what we've seen in the past. Would you say that's true?
ECO: I think we're at episode seven now. We've done seven, rising tension, emotional, high-action episodes. We haven't had a dud yet and sometimes an episode doesn't work out, but so far, everybody's brought their A game. I think moving to Monday night at 10 o'clock, is kind of a rally cry for everyone. We're all in. The ante has been upped. The most competitive hour of scripted television in that time slot on TV. You've got Blacklist. You've got Castle, not to mention Monday night football. So, I think everybody's stepping up their game.
NCIS: Los Angeles Season 6 airs Mondays at 10/9c on CBS.
Jim Halterman is the West Coast Editor of TV Fanatic and the owner of JimHalterman.com. Follow him on Twitter.