Scorpion Season 1 Episode 6 Review: True Colors

Allison Nichols at . Updated at .
It was only a matter of time before Team Scorpion was sent to see a shrink.
On Scorpion Season 1 Episode 6, the episode is set up as a flashback, where the team is explaining what happened during a psychological evaluation.
Except that's not what happened.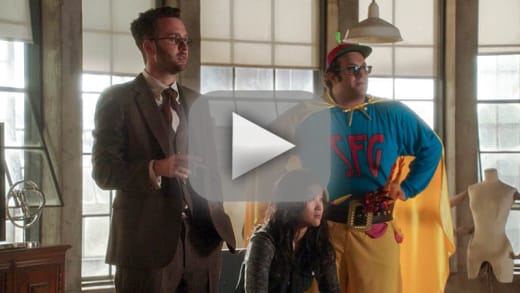 Instead of being mainly based in the present, the majority of the case happened in the past. There wasn't much interjection to check facts of the story or to comment on a choice.
There were just moments where the shrink had some insight to give on what happened or just on the character in general. It could have been a lot more character based if the episode was mainly in the present.
Now there were some great little insights, but they were barely there. It was just a minute or two of couch time followed by mostly case talk. The writers could have even had someone disagree on what happened.
For instance, Toby could try to play up his part of things or Sylvester could try to minimize his freak outs or how fast he ran to Galactic Toys. There were a lot of ways this could have been played with.
Did you enjoy the set up of the episode or do you wish there was more time on the couch, so to speak?
Out you go before I start to regret loaning you my things.

Hetty
Hetty made an appearance in this episode. It was great to see her, but there wasn't much mention of who she was. Either the writers assumed everyone was familiar with NCIS: Los Angeles, or knowing who Hetty was really wasn't important.
Sigh, the Paige and Walter flirting of sorts has begun. We all knew it was coming. It was alright, although it made it sound like Walter only tried to have emotions because he liked Paige.
It was why he returned the painting to the original owner. Every step of progress that Walter made was because he liked Paige. At least, that was how it came off in the episode. 
Couldn't we have focused on Toby and Happy instead? Alright, there were a couple cute moments between Walter and Paige. A personal favorite was when Walter told her a joke. 
Then Walter went to a slightly creepy place. His look while watching Paige dance with another man was ridiculous. Stop that, buddy, you don't look concerned you look like you want to kill the dude. I don't know, are you a fan of Walter and Paige? I'm not.
For a guy who says he has no feelings, he sure is sweet.

Paige
One little thing that was enjoyable was the writers giving more examples of how different the geniuses are from everyone else. Those moments were a nice touch. It's something small, but it explains a lot about the characters. 
The two great moments in this episode were when they were all talking about how they don't really get art and the scene when Paige tried to tell them a joke.
It's a nice fake out with paintings in the trunk of the exploding car. Considering how bad it was at the start of he episode, it wouldn't be too unbelievable if they did accidentally blow up a masterpiece.
Would it have been as nice of an ending? No, but it could have happened. It's not as if the entire time it was obvious that i was a set up. The writers framed the episode really well, and that was the reason the twist worked.
The more we defy you, the more legal it is.

Walter
Everyone dressing up for Ralph's school's Halloween party was pretty cute, but come on, couldn't they have actually gone? It would have been so amusing to see the team surrounded by tiny children in costumes begging for candy.
Ralph seemed to be just decoration. He popped in every now and again, but it was never for more than a minute or two. The writers should embrace Ralph and maybe expand on some of the storylines they create for him, such as the Halloween party.
What did you think of the episode? Remember you can watch Scorpion online anytime via TVFanatic!
Leave me your thoughts in a comment below.