Last week, Bones Season 10 Episode 6 delivered a powerful hour that showed the horrors of human trafficking, but also dealt with some complications for Cam and Arastoo's relationship.
Below, find out what TV Fanatic writers Bridget Liszewski, Mary Kate Venedam, Christine Orlando, and Ashley Bissette Sumerel had to say about this episode and sound off with your thoughts in the Comments section...
Why do you think Cam went to Brennan about Arastoo's dissertation?
Bridget: Cam and Arastoo have done a great job at keeping their personal and professional lives separate, not using Cam's position to their advantage. However, here she definitely overstepped and let her emotions get the best of her. In a lot of ways who can blame her? She just wanted the best for the man she loves, it's understandable that sometimes that's going to cloud your judgment.
Mary Kate: I think Cam was being sincere in her attempt to help Arastoo. I mean, sure, it probably was influenced by her being in a relationship with Arastoo, rather than a professional courtesy, but I don't think it had to do with authority. I also think Cam wanted to make up for the awkward marriage conversation, so she went to Brennan to try and help him about his dissertation.
Christine: I think Cam let her emotions get the better of her. She was trying to do something to help the man she loves but ended up just making things more awkward. Even with the best of intentions, there will be times when their personal and professional lives will crossover. It's simply human.
Ashley: I agree that it came from a good place, but I also think that subconsciously, there could have been more going on there. Even if it does come from a good place, her instinct was to protect him rather than simply support him, and that's not what he needed in that moment.
Should Arastoo have let Cam off the hook so quickly? Did you want more from their story this week?
Bridget: This was a definite point of contention for me this week. I was proud of Arastoo when he confronted her so directly about her resistance to move their relationship forward. However, at the end of the episode he seemed to just completely let her off the hook. I think Cam owed him, and the audience, a bit of an explanation about why she's so reticent about marriage. Arastoo's right, they've been together awhile now, and marriage is the next logical step. Why isn't she ready to make it?
Mary Kate: The conversation should not have just ended. I thought there would have been more closure for the story, especially since we will only see Arastoo one or two more times this season. I wish Arastoo had asked more questions rather than focus on the "if." Why did Cam say "if" not "when"?? I'm curious for her reasons.
Christine: I agree with you both. Arastoo was great when he confronted Cam about her hesitation in moving their relationship forward. In their final conversation I kept expecting her to either explain her reticence or say she was ready to talk about their future. We got neither and that was disappointing.
Ashley: Ditto. I wish there would have been more conversation. I think Cam's hesitation comes from her past relationship, but I wish she would have explained that to him.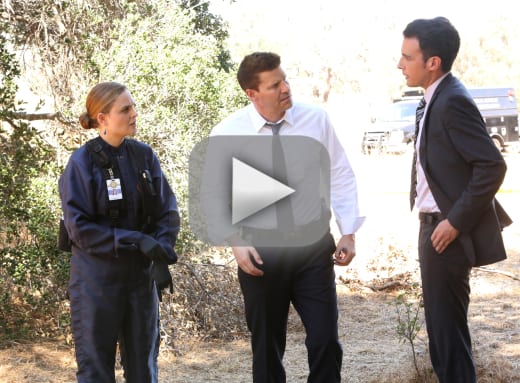 Any hopes for another wedding this season?
Bridget: I wouldn't be shocked if we did see an Arastoo and Cam wedding this season, but it's also not something I need to happen. I like those two together, and if we just know they are headed that direction, with Cam ready to move forward, that'd be good enough for me.
Mary Kate: Not particularly. Arastoo and Cam are cute, but I don't see a spectacle like Booth and Brennan's. I agree with Bridget, the wedding doesn't need to happen, but it would be understandable and welcomed if it did. I think more questions need to be answered about what is going to happen with Arastoo and Cam.
Christine: I'm not really expecting one but I'd love to see Arastoo and Cam finally tie the knot. They're a great couple and marrying the boss would also bring in more drama.
Ashley: Well, I love a good wedding episode, and I think there's could make for a great story line. And like Christine says, it would add to the drama, too.
A serious case this week with human trafficking. What did you think of it, and how did you feel about the characters' reactions?
Bridget: I've seen this topic covered on many shows I watch recently, and I'm not sure any of those affected me as much as Bones did. They really relayed the seriousness of the topic, but at the same time threw a few laughs in throughout the episode to not make it completely depressing. I loved the visual of all the women holding up the pictures of their loved ones back home. That really drove home the point for me.
Mary Kate: It definitely had a more serious tone than the rest of the episodes this season. Again, I agree with Bridget, the way Bones handled the subject was more affectual than the way other series, that I have seen, have handled it. I thought the characters had reasonable reactions, almost unable to process it. I especially liked Booth's sympathizing with the victims when they met them. It was just a sweet moment.
Christine: This episode made me feel the characters' desperation. It actually brought me to tears, and that doesn't happen very often. The thought of a good person being driven to kill a basically innocent women in order to save her family was very powerful.
Ashley: I completely agree. It was just really well done. And the fact that we were left feeling empathy with the murderer speaks volumes.
What's your favorite thing about James Aubrey (or, least favorite thing)?
Bridget: I continue to enjoy Aubrey. I think my favorite thing is that he gives Booth someone a like-minded individual to work with. Brennan has her team of squints, but Booth doesn't really have that. Aubrey gives him someone to bounce ideas off of, and I continue to love the "Booth as a mentor" role that Aubrey allows to happen. Bones is a show made up of lovable, quirky characters, and to me, Aubrey falls right in line.
Mary Kate: I am really liking Aubrey. He certainly fills the Sweets void. He is much more quirky and odd than Sweets, but that's what I like about him. The relationship he has with Booth is really fun to watch, because you can tell how much Aubrey looks up to Booth in the field. I hope as the season goes on we can see Aubrey interact more with the rest of the team. He's done it, but I liked the side relationships that Sweets had with Angela or Hodgins. It would be nice if Aubrey got those relationships with them.
Christine: Aubrey's been a great surprise this season. He's got his own personality but fits in great with the team. He allows Booth to play mentor, but I've also really liked his interaction with Angela. It's hard to add a new character to an ensemble as close as this, but they've hit a home run with Aubrey, and I look forward to seeing more.
Ashley: Aubrey is a great addition. I agree with Mary Kate that he definitely fills the Sweet's void, but he character is much more quirky. The details of his character are what really makes him -- like the eating! If there's anything we already know about Aubrey, it's that he eats a *lot.* It's a fun little detail that makes him unique. And like Bridget says, it adds someone for Booth to relate to, which is nice to see.
What was your favorite quote or scene from this episode?
Bridget: I had quite a few quotes in this one that I enjoyed. The State Department official, Alex Radziwill had a few that were great, but he summed up how awful human trafficking really is when he told Aubrey, "Welcome to hell kid." But overall, my favorite scene had to be the last one between Bones and Booth. I loved when Brennan talked about looking for the silver lining, and I'm sure it's something in their line of work they'd have to do quite often. Her pointing out that, "I could've so easily been like her, just missing the opportunity to live my life with you." That's a pretty great silver lining if I ever saw one.
Mary Kate: As sad as it was, I really liked the scene with the women showing their pictures to Booth. It was a very powerful moment to watch, especially as the translator just knew she didn't have to translate the moment. Alex Radziwill was a welcome addition to the episode, with his light moments with Aubrey and Booth and bringing some humor to a very serious episode.
Christine: It was the confession…and that doesn't normally happen. The murderer's explanation brought me to tears and I loved how much it affected Booth, Bones, Angela and Aubrey.
Ashley: It really is hard to choose. I agree with all of these -- the women with the pictures of their families, the final scene with Booth and Brennan, and the confession. But I simply cannot leave out Hodgins chasing after the goat, with Aubrey right behind him! Oh, the things this team will do for evidence... And it was nice to have that bit of humor.
What about you, Bones Fanatics? Leave your answers to these questions in the comments -- do you agree or disagree with what our writers have to say?
And remember, you can always catch up with Booth and Brennan when you watch Bones online via TV Fanatic!
Ashley Bissette Sumerel was a staff writer for TV Fanatic. She retired in September 2017. Follow her on Twitter and on Google+.