Chicago Fire Season 3 Episode 9 Review: Arrest in Transit
Bridget Liszewski at . Updated at .
While the members of Firehouse 51 are used to responding to emergency situations on the job, Dawson and Casey seemed faced with one at home on Chicago Fire Season 3 Episode 9.
All season long there's been evidence of tension brewing just beneath the surface for what seemed to be Chicago Fire's most stable couple. That pot may have finally started to boil after Dawson disobeyed Casey's order at the scene of a semi-truck accident.
Thus far, Casey and Dawson seemed to have a pretty easy time transitioning from the personal relationship they have outside of the office to the professional one they must maintain while on the job. The lines started to blur this week and, no matter how right Dawson was, even though she saved the day, Casey can't give the impression she's getting special treatment.
I get that, and I totally agree he needs to treat her like everyone else. She also has to show him the same respect she gives everyone else. They really are caught between a rock and a hard place.
That's exactly why I was glad when Dawson wanted to confront their issues head on and talk about the dealing with the rough shift and the effect it was having on their relationship. As proud as I was of Dawson for her actions, I was similarly disappointed in Casey closing himself off. Dawson is right – unless they talk about their issues, it's never going to work for them.
She was right too when she said the problem for them is not the work part. No, that part is fine, as was evidenced by them running into the burning storefront together to rescue the owner. That part they can handle, it's the home part that needs some work and unless Casey decides he wants to open up and start talking – instead of just closing down and assuming he knows what Dawson is feeling – things are only going to get worse.
As if the Dawsey drama wasn't heavy enough this week, the show still had to tease us with the notion that things could rekindle between Mills and Dawson. However, if I had to bet, I think Dawsey fans can rest easy as all I see happening there is a rekindling of a friendship. Nothing more.
While Dawson and Casey struggle to hang onto their relationship, two people who seemed OK with theirs ending were Severide and Brittany. These two shared some really great and tender moments this week – actually my favorite ones of the episode – and it really became evident what this relationship meant to both of the involved parties.
Unlike his friend Casey, Severide had no problem opening up and talking about his feelings with Brittany. With her by his side, he was finally able to visit the Academy headquarters and see Shay's badge. It pained me to listen to Severide open up about Shay and what she taught him, but it was nice that he was finally able to talk to someone about her. That was the final piece to the puzzle before he can really start to heal and move on.
Severide: I learned as much about protecting people from Shay than I did from any instructor at the academy.
Brittany: Yea?
Severide: Shay was intense. She'd do anything to protect the people she loved.
Severide's honesty spurred Brittany on to share her own story, as it was finally revealed she was behind the wheel during the car accident that killed her sister. This didn't come as that big of a surprise, but it allowed for an honest moment between the two as Severide comforted Brittany.
We see this kind of thing all the time. One random moment or move and this person lives or that person dies. You can play 'what if?' all you want. 'What if it was 2 inches to the left?' or 'What if it was a split second later?' You'll drive yourself crazy wondering. Your parents can't blame you for what happened and neither can you.

Severide
In the end, these were two broken people who really helped each other heal. I mean sure, the wedding and how they came together was downright crazy and irrational, but dammit if I don't really like them together! With things going so well, there's no way they can continue along that way for much longer.
Like Severide, I understood why she decided to go home and deal with her mother. He's right, he was her escape, and something she needed in the moment. My love for Severide just grew by leaps and bounds as he told Brittany that he completely understood her need to return home, despite how badly he'd like to keep her in Chicago for himself. All in all, I agree this was a successful marriage and beneficial to both sides. I hope Severide can continue to move on with his life, but I wouldn't mind Brittany (and Serinda Swan for that matter) returning at some point.
Finally, it sure looks as if Mills won't be interfering with any of the relationships around the station since he'll have his hands full staying safe. We clearly have not seen the last of Mr. Lullo and I don't know about you, but I'm a little scared for Mills. At first he doesn't seem to grasp how dangerous Lullo is, but by the end of the episode, when he recognizes he's being tailed, things start to settle in and Mills is a bit scared. I can't really blame him and I'll be holding my breath until we're sure Mills makes it out of this jam in one piece!
More moments of note from the station house:
Good for Cruz making his way out of the "friend zone" with Brett! These two are pretty cute together, and I'm glad for Cruz that things worked out in his favor. 
Speaking of Brett, I am with you girl! I'm totally obsessed with sriracha sauce myself.
Mouch is totally right, Platt is definitely capable of ripping his head clean off. No one messes with Platt – no one. If you think I'm lying, go talk to Chicago PD's Officer Burgess.
Was there anything cuter than Pouch coming over to comfort Mills?
Still stressing out over Dawsey? Were you OK with the outcome of Severide's marriage, and afraid for Mills? Ease the pain and watch Chicago Fire online any time you feel the need via TV Fanatic.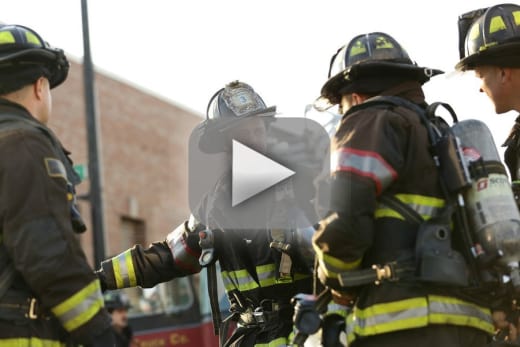 PROGRAMMING NOTE: Chicago Fire Season 3 Episode 10 will be titled "Santa Bites" and it will air on Tuesday, December 2.
Bridget Liszewski is a staff writer for TV Fanatic. Follow her on Twitter.