There's one of me, two of me, three of me, four of me... sorry, no more of me!
The Luison quadruplets on Grimm Season 4 Episode 5 played on their identical looks to drive poor Eva to the point of insanity, and for a good portion of the episode you're left to wonder just how Gabriel was doing it!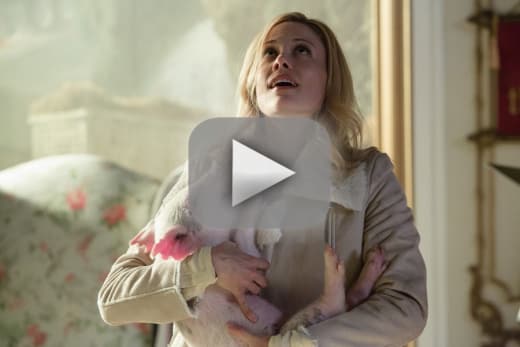 This isn't the first time we've seen the doppelganger-to-promote-insanity scheme on TV, but the Grimm team pulls it off well - the scene where two of the brothers were ribbing the third for "tripping" was pretty funny, I have to admit. It looked like Julian Acosta was having a lot of fun there.
We were also treated to a surprise appearance by Josh Porter, the son of the dying Grimm who entrusted Nick one of the Seven Keys in Grimm Season 3 Episode 21. You have to feel for the guy; even after his poor father died, he couldn't escape the attentions of the Verrat, who tossed his house while presumably looking for the Key. Given that Josh managed to evade the Hundjager, it's worth asking whether he might not be more of a Grimm than he'd like. Remember, his dad just died, and Nick came into his powers around the time that his aunt died.
I cheered when he actually threw his father's urn at the Hundjager and used the cover to make his escape. That takes serious guts!
The look on Nick's face when Elizabeth delivered the news that he has to sleep with Juliette disguised as Adalind? Priceless.
Elizabeth Lascelles: [to Juliette] When you do it, you won't exactly be you.
Nick: What do you mean?
Elizabeth Lascelles: The potion will transform you into...
Nick: Oh, God, no.
Elizabeth, for her part, had a helpful bit of advice on how to deal with it:
[on Nick sleeping with Juliette as Adalind] I would suggest a very dark room.

Elizabeth Lascelles
Every time Louise Lombard appears, she has something pretty awesome to say. I definitely hope that Elizabeth does manage to track down Kelly Burkhardt, because the two of them together would be absolutely amazing. And Elizabeth could teach Diana how to be a super-Hexenbiest!
And then there was Adalind. Adalind, Adalind, Adalind... I hope she's playing Viktor for time, because I've just about had it with her character otherwise. I'm not alone in my frustration, either. And, as I've commented before, the awesomeness of Elizabeth Lascelles just makes the contrast between the two Hexenbiests that much more painful.
Please, Grimm writers, stop making Adalind so pathetic. If I had my way, Adalind would escape Viktor's castle and hook up with Meisner again and together they'd wreak bloody revenge on Viktor.
One important point in this episode was that Nick finally admitted that he missed being a Grimm and wanted it back... and that he was really mad that Adalind had taken it away from him:
Nick: The problem is... I like being a Grimm.
Monroe: Are you serious? You miss it?
Nick: Yeah. And I'm pissed it was taken away from me.
Before this, being a Grimm wasn't a choice, it was forced on him when his aunt died. Now, however, Nick had the opportunity to choose between a normal life and the dangers (and wonders) of the Wesen world. And then, shortly thereafter, Juliette herself made a just-as-significant decision:
Juliette: I'm ready.
Nick: For what?
Juliette: You need to be a Grimm again.
Juliette has always been at best ambivalent about Nick being a Grimm, so her declaration that she was to go through with the de-cursing process and restore his powers was pretty significant!
There was so much going on in this episode - perhaps a bit too much crammed in. Both Nick and Juliette decided to go ahead with the re-Grimming within the last five minutes, and there was the burning cross in the yard, and there was Trubel handling Shaw the Klaustreich, and Renard and his mother, plus Adalind chasing her tail, and of course there was the case of the week. Though it seems that the de-Grimming saga is finally coming to an end next week, much to the relief of numerous fans who felt that it had been dragged out for what seemed like forever.
What do you think, Grimmsters? Are you ready for Nick to get his powers back? Are you beyond frustrated with Adalind? Do you think Elizabeth and Kelly would make an awesome dynamic duo? Take your thoughts on this episode to the comments below!
Also feel free to check out this slideshow and count down the number of things I hoped to see this season on Grimm that have already come to pass!
Remember, you can always watch Grimm online to catch the latest full episodes right here at TV Fanatic!