Hawaii Five-0 Season 5 Episode 7 Review: Ina Paha (If Perhaps)

Amanda Wolf at .
It is always impressive when a show makes it to its 100th episode mile marker. Not every show is so lucky; just take the cancelations of many of the recent comedies that premiered this fall as a warning. 
Hawaii Five-0 Season 5 Episode 7 was a celebratory and iconic episode for this revamped cop series.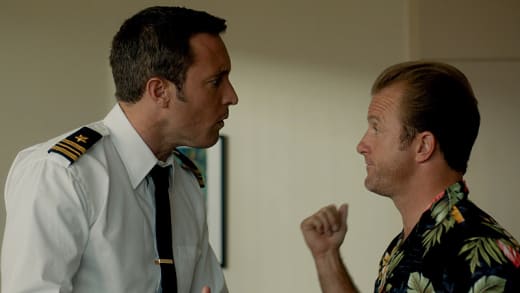 After Steve was kidnapped and drugged by Wo Fat, we were treated to an "if perhaps" world, in which a lot of the bad events that happened to our Five-0 friends never took place. The most striking being that Steve's father was never killed by Victor Hesse. We also cannot forget the viciousness of the torture scene in the hospital. How, exactly, did they get away with that?
The Walking Dead and Boondock Saints fans had reason to rejoice, as Norman Reedus had a cameo as Anton Hesse. 
Perhaps the greatest thing that this episode gave viewers was an ending to the story line of Wo Fat. The long standing villain was raised by Doris McGarrett for several years before she was forced to give him up by her employer, making him and Steve some kind of pseudo brothers. 
It was a touching story and it actually made me feel bad for Wo Fat, but as the scene was ongoing I couldn't help but feel it was foreshadowing his demise. I wasn't wrong, when after a brutal fight to the death between the two men, Steve got the upper hand and shot Wo Fat in the head. 
WoFat: You are not gonna kill me. Are you? Brother?
Steve: You are not my brother.
The fade away to the scene between Steve and his father was nicely placed between Wo Fat's death and him being rescued by the Five-0 team. 
In fact, Wo Fat died twice in this hour. It was interesting to see the different events that took place in the alternate reality, where Steve's father's kidnapping led him to kill Wo Fat much earlier on. What if that had actually happened?
It was compelling and it made sense why Steve would be imagining a different reality, one in which his father was still alive. It was heartbreaking to see him ask for his father and for Danny to tell him all over again that he was dead. He was so confused and haggard from being tortured by WoFat, and by the information bomb that Doris was a mother to Wo Fat. 
I also appreciate a good male crying scene on television, it gets me every time. 
The nostalgia train continued and we were treated to a lot of past scenes of the gang during some happy times. It is always great when a show realizes how far it has come and pays homage to the fact that the fans are along or the ride, too. 
As far as 100th episodes go, I was impressed with this one. It focused on the characters and connected the main protagonist and villain, which made both of them so much better. The beginning paid homage to what set this series into motion, and gave us a contrasting view of what could have happened. It was brilliant and I think fans got what they deserved from this momentous achievement. 
What did you think of the "what if" of it all? Did you like seeing what could have happened? Were you satisfied with the connection between Wo Fat and Steve?
Hit the comments below to discuss and share your thoughts! 
Remember, you can watch Hawaii Five-0 online via TV Fanatic!