Nashville Season 3 Episode 7 Review: I'm Coming Home to You

Amanda Steinmetz at . Updated at .
Rayna James may be a great singer, but she sure isn't great at appeasing her fiance. 
Nashville Season 3 Episode 7 picked up 2 months after the previous episode which means two things: Rayna and Luke are closer to their wedding, and Juliette's belly is larger.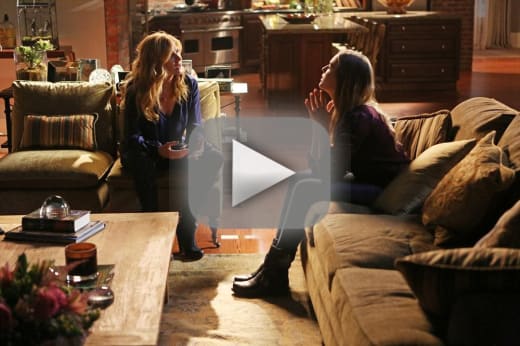 After performing on Dancing with the Stars, Rayna returned home to find her weekend of family relaxation interrupted by the addition of a journalist. I'm surprised by her willingness to open up her home to a reporter, but even Rayna knows you don't turn down the cover of Rolling Stone Magazine. 
It came as no surprise that Luke was upset. The question is, was he upset about the lack of private time, or was he upset that she was getting all the spotlight? 
My gut is leaning toward the latter. I'm not saying he doesn't love her. I think he does, but two superstars are bound to be jealous of each other's success. It was clear during their argument at the cake tasting that there's more going on than just the lack of alone time.
Things went from bad to worse when Rayna, Luke, and the reporter walked in on Maddie and Colt kissing. In order to save her daughter from media scrutiny, Rayna agreed to tell the reporter the story of her and Deacon. 
The scene between Rayna and Luke at the end of the episode was somehow both sweet and sad. The things they said to each other as they danced were touching, but I wish she was saying those words to Deacon. Not to mention the fact that Rayna neglected to tell Luke how she got their kids out of the story. Needless to say, Luke is not going to be happy once the magazine comes out. 
In the two months that passed, Juliette and Avery have yet to find common ground. The look on her face when Avery suggested natural child birth was hilarious. If someone can screen grab that shot, I will love you forever.
Unfortunately there was anything but love going on between the two of them for the majority of the episode. Avery was trying to do right by the baby, but, thankfully, Emily was there to remind him that Juliette and the baby are one and the same until the birth.
Avery: How is she [Juliette], really?
Emily: She's sad. Scared.
Avery: I'm scared too.
Avery showing up to the Lamaze class was a promising sign of hope. Could this be the beginning of a reconciliation? Please let it be so!
On the bright side, Juliette was able to turn to Rayna for some guidance. Rayna advised her to channel her pain into her music, and boy did it payoff. That song was beautiful. I wanted to hear more of it. 
Someone else channeling their pain into music was Layla. She surprised everyone, including myself, by performing a song that was both moving and compelling.
I guess these two months gave Layla time to reflect on her situation with Will. 
You know before all of this, I hadn't really experienced anything. No highs or lows. Just a lot of in the middle. I guess I have you to thank for changing all of that. It's hurt, but it gave me a voice.

Layla
This was the most civil we've seen Will and Layla together in a long time. However, that was cut short once they saw the premiere of their reality show. 
I couldn't help but compare Layla's portrayal with Jessica Simpson's on Newlyweds. She was portrayed as ditzy as well. At least Will attempted to make her feel better. I hope Layla doesn't go back to lashing out at Will. This was the first episode in a long time that I found her somewhat tolerable.
I can't say the same for Scarlett. While it was great to get some background information on Terry, I just can't help but be tuned out of his story because of Scarlett. I don't know if it's her accent, awful hair extensions, or personality, but something needs to change.
She has a lovely voice, and I enjoyed her duet with Terry, but I don't see where her character is heading in the long run of the show. At least we didn't have to sit through another one of her stage fright freak-outs.
Finally we get to the apparently now single dad, Gunner. Show of hands; Who else saw Kiley's dump and run coming a mile away? Yep, so did I.
The show was providing too much foreshadowing throughout the episode with Kiley constantly being late to pick Micah up and her panicking about losing her boyfriend.
News flash Gunner: Don't trust a woman that lies to the men in her life about having a kid. First she did it to him, and now we found out she did the same thing to her current flame. 
I don't know where this story is going, but I'm pretty sure Zoey isn't ready to be someone's mommy.
As far as performances go, this week was making up for lost time. We got performances from Rayna, Layla, Juliette, and Scarlett/Terry. My favorite was Juliette's song with Layla coming in at a close second. Both songs were full of emotion and depth. I'm giving the edge to Juliette just because of the look on Avery's face as he watched her sing. Damn all the feels!
So over to you guys! What did you think of the episode? What do you think Rayna revealed about her relationship with Deacon to the reporter? What do you think Deacon will have to say to Rayna about revealing their story? Do you like Scarlett's character development? What would you like to see happen with her? Give your suggestions below, and don't forget you can catch up on all the country drama when you watch Nashville online! 
Amanda Steinmetz was a staff writer for TV Fanatic. She went into retirement in June of 2027. Follow her on Twitter.