Cabe's a smart man putting Happy in charge.
On Scorpion Season 1 Episode 10, Team Scorpion heads to Bosnia. It's weird to see the team out of the element. What's weirder is that no one really comments on it.
Sure, Happy gets injured, and Toby says he would eat his hat, but that's it. There could have been a little bit more on the team commenting on the elements. None of them scream outdoorsy.
If Sylvester was along for the ride, there probably would have been a bit more humor in the mix, but it is much better that he stayed behind with Megan (Walter's sister).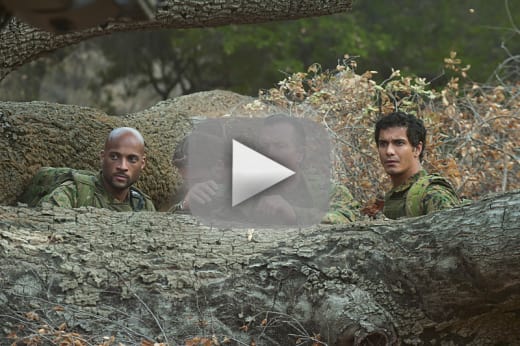 There hasn't been a Sylvester moment, but he makes up for it by opening up to Megan about how he met Walter. It hints that things haven't always been all that great for Sylvester.
Is it a nice backstory? Yes. However, the writers also throw in a nice bit about Toby's history with Walter. Sylvester still needs to be developed more.
Oh gosh, did I let my inside voice get out again?

Sylvester
Sylvester needs to find a relationship where he can grow. Toby and Happy have developed so much when they have been paired together. Sylvester just floats around.
An unexpected highlight is Jim and Walter's friendship. It's not surprising that Walter starts off on the wrong foot with the military. His natural predisposition is to make a poor first impression.
What is great is that Jim learns to like Walter based on crazy things that Walter does. It is not like Paige tells Walter how to act, and that is why Jim and Walter become friends. Jim accepts Walter for who he is, and it makes things so much better.
If Jim could come back, it would be great. I'm not sure how it would happen, but Jim and Walter being friends was ridiculously entertaining. Didn't  you love watching the two of them?
It's another spectacular Happy and Toby episode! Before delving into all of this, wouldn't it be better if there is a different pair of team members who get split up?
So I say stupid things to hide the feelings you already know I have.

Toby
Toby and Happy ending up alone while Walter and Paige are still with the rest of the group is predictable. Toby could still freak out about Toby if it was him and Paige stranded while Happy is with Walter and the team.
There should have been more interesting character dynamics. This was a chance  to pair up characters who don't spend a lot of time together.
Don't get me wrong, Happy and Toby are amazing. This advanced their "romance," if you can call it that. Who would you have liked to be the two characters stranded from the rest of the group?
This case of the week isn't really a case. Even before it's a rescue mission, it is a recovery mission. There is not anything to be solved.
However, personal storylines were the focus, so a complex case would have not been a good fit.
Did anyone else find it surprising that Paige willingly went to Bosnia into a dangerous situation? Cabe does not invite her to the mission because of Ralph. Paige just brushes it away and says that Ralph can stay with Drew.
If I'm going to blow up, I'd rather die in a purple patch of lilies than die in the dirt.

Paige
There's not even a moment in Bosnia where Paige worries about never seeing Ralph again. It does not have to be a dramatic moment, but she could have mentioned wanting to call her son or if she gets home, she'll be sure to do something with Ralph.
Ralph is now an integral part of the team. With Paige being in such a dangerous situation, it feels weird that Ralph is never brought up. Did anyone else find this odd?
Megan makes an appearance in the garage. It is great to see her interact with the team. However, there could have been a little bit more of her with the team members.
Aside from Sylvester and Walter, Megan practically just says hello everyone. There could have been more (Are you getting my point here? More!). Would you have enjoyed seeing Megan with the team a bit more?
What did you think of "Talismans"? Leave me your thoughts in a comment below. Remember you can watch Scorpion online anytime via TV Fanatic!
Allison Nichols is a staff writer for TV Fanatic. Follow her on Twitter and on Google+.