Blue Bloods Season 5 Episode 9 Review: Under the Gun

Christine Orlando at . Updated at .
Frank let his ego get the better of him, Danny got blindsided and Erin got tough on Blue Bloods Season 5 Episode 9 but it was Linda's mugging and the aftermath the caught my attention.
I couldn't believe that Linda yelled at her mugger when he wanted her wedding ring. As much as I understood the desire to keep that precise piece of jewelry, I would think that she'd know better than to fight a man with a knife to her throat.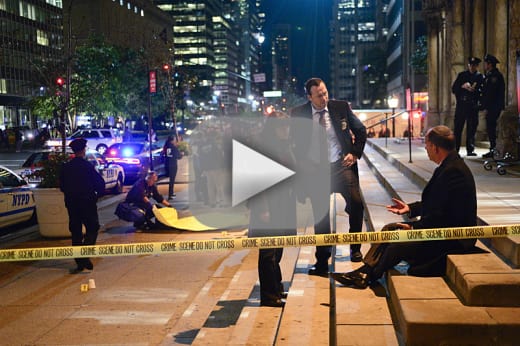 Then there was the fact that no one informed Danny that his wife had been mugged. I can only assume that Linda would tell the officer taking her statement that her husband was a detective. Wouldn't that warrant a phone call to his precinct to give him the news? Not to mention that she's the police commissioner's daughter-in-law!
So I had to cut Danny some slack this time. He really did get blindsided when he came home to find out that his wife was working at a mobile clinic in a dangerous neighborhood and she'd been mugged. Obviously Linda knew Danny would take issue with her work assignment or she would have mentioned it to him previously. Still, Danny could have handled the situation better. Telling his very capable wife that he wouldn't let her work at the clinic was not his finest hour. 
Linda used that police commissioner's card to speed up the process to get a gun but I still have trouble believing she could do it that quickly. Getting a gun permit in New York City isn't easy. Getting a carry permit is even more difficult but I'll have to let those details go in order to enjoy this story. 
Jamie obviously isn't very good at keeping a secret as he was quick to spill the beans about seeing Linda buying a gun to Erin and Frank. Of course Linda only told him not to mention it to Danny so I suppose he can get off on a technicality. Frank's reaction both surprised and delighted me as he told Erin and Jamie in this Blue Bloods quote…
She wasn't kissing another man in the gun store. She wasn't shop lifting a weapon in the gun store. She was buying a weapon legally in the gun store. It's no body's business but her own and whomever she chooses to share it with.

Frank
Jamie's reaction was perfect as he told Frank, "Danny finds out I knew and didn't tell him I'm sending him after you." 
I do so love the Reagan family.
Frank had his hands full trying to deal with the fallout of three prominent Jewish men being gunned down in the street. I liked that Erin felt comfortable enough with her father to call him out on thinking like a politician on this one. I was also proud of Frank for finally realizing that he'd let his ego get the better of him. 
But it was Danny and Baez's detective work that cracked the case which had to do with a malpractice suit and nothing to do with the victims' religion. 
Erin's case was the one for which I felt the least amount of closure. I enjoyed that she asked Detective McBride if he could be a sneaky bastard and help her catch her rat. Apparently Erin's got a sneaky side herself since she was the one who came up with the plan.  Plus Erin was darn tough on Olivia who probably threw away any hope of a legal career when she stole the gun, no matter what the circumstances. Still I half expected more sympathy from Erin. I only wish we had found out if Olivia and her brother both survived the case.
If you want to see more of the Reagan family, watch Blue Bloods online any time here at TV Fanatic. 
C. Orlando is a TV Fanatic Staff Writer. Follow her on Twitter.