Gossip Girl Season 2 Episode 21 Rewatch: Seder Anything
Leigh Raines at .
In honor of Blair Waldorf's favorite holiday this past weekend, it's time to finish out the Gossip Girl season 2 rewatches. 
Up next is Gossip Girl Season 2 Episode 21, in which Serena thinks she "accidentally got married."
I know she's only 17 or 18 here, but even in high school I knew you had to sign a marriage license. C'mon S.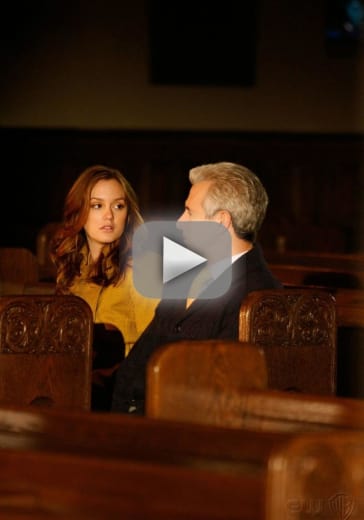 Honestly, I was never a fan of this episode. Even though Cyrus at his seder was totally adorable! Why was it such a secret Dan was a cater waiter? Who cares?
My mom and Cyrus are hosting Passover at my house. I thought first-borns were supposed to be spared.

Blair
I am, however, going to give major props to Chuck for FINALLY giving Jenny a massively overdue apology for attacking her the night of the "Kiss on the Lips" party in Gossip Girl Season 1 Episode 1. About damn time.
Armie Hammer was good as Gabriel, but Gabriel's character was such a cornball. Something about his character gave me the heebie-jeebies, maybe it's because he was a total con artist? But nobody knew that yet. Still he flew to Spain with Poppy as her boyfriend and flew home claiming to be in love with Serena. 
The whole seder scene with Serena pretending to be back with Dan to get rid of Gabriel was painfully awkward. It just seemed so over the top unnecessary...even for Gossip Girl!
Even Dan, who was usually a levelheaded character (when not secretly acting as Gossip Girl) was like WTF?!? 
Serena, we were together for a year and we didn't make it to junior prom. You're with this guy a month and you get married, so yeah, it's a little bit insulting. [Pause] I have to get back to work. You're married to landed gentry, and I'm a cater waiter.

Dan
So Serena and Gabriel kissed and made up. Blair and Nate did too, even though she almost pulled an old Blair. You could tell she was struggling at the rehearsal dinner to help out William. Blair cares about Nate and loves him even if she's not "in love" with him. 
Perhaps the best part of this whole episode though was when Nate went to Chuck for advice about expecting Blair to change and Chuck said, "Why would you want that?"
Yes Chuck, why would anyone want a Blair any different than she was? She is the one and only Blair Cornelia Waldorf and loving her means loving all of her! 
Luckily Nate took that advice and he and Blair kissed and made up. Everyone was happy by the end, but of course an episode can never end that way. Poppy returned to the scene and we realized that Gabriel and Poppy were indeed involved in a hoax of some sorts on Serena. Poor S. 
Although honestly the Golden Girl could do SO much better...
And if you need to watch Gossip Girl online, just follow our link!