It's Christmas time on New Girl Season 4 Episode 11!
New Girl has always done holiday episodes exceptionally well and this year they didn't disappoint.
Can I get a show of hands – who wants to see the Christmas play Jess was working on? You can't beat a gingerbread man getting his arm taken off by Santa himself!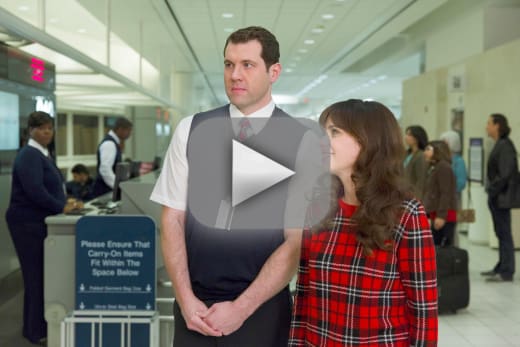 As much as I love Ryan and Jess together the whole invite to London did seem abrupt; though the question we were all probably thinking was how Jess was able to afford a last minute plane ticket to London during Christmas. We did get to learn more about Ryan – he comes from a wealthily family who I am dying to meet!
Did anyone else think of the movie Love Actually when Jess arrived in London? It gave me hope for Ryan and Jess when he came to California to be with her for Christmas – please don't screw this up!
Billy Eichner (Billy on the Street, Parks and Recreation) playing an employee at the ticket counter dealing with disgruntled passengers was genius casting. The little heart-to-heart he had with Jess at the bar just made me want to see him become Jess's new friend. 
Nick and Winston were on their game tonight! I could not stop laughing at the lengths they were going through just so they could get bumped up; these two together are always gold!
It is time to just put Schmidt and Cece together already! This is seriously getting frustrating and being dragged out far too long. We all get it; Schmidt still loves Cece and Cece still has feelings for Schmidt – no one is falling for that friends line, right?
The final scenes brought back memories of the New Girl Season 1 when Jess went to get her things from her ex boyfriend -- the friends uniting together and not letting her go at it alone. All of them willing to miss their Christmas flights so she wouldn't be alone is what makes this show work!
It was another solid episode for New Girl and I find myself actually wanting to know what is going to happen next. What started out as a very choppy season is starting to take a turn for the better – our characters are growing up, getting into relationships and are slowly becoming the people we once recognized.  
Do you want to catch up on past holiday episodes? Go watch New Girl online now via TV Fanatic! 
Samantha McAllister is a staff writer for TV Fanatic. Follow her on Twitter.