The Real Housewives of Beverly Hills Season 5 Episode 7 Review: Breaking Branches

Christine Orlando at . Updated at .
After weeks of hearing about it, we finally get to see Brandi Glanville's housewarming party on The Real Housewives of Beverly Hills Season 5 Episode 7.
We recap the the whining and dining in our +/- recap.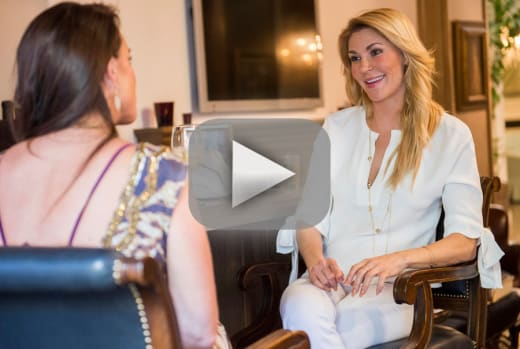 Brandi's party finally arrives and there turns out to be more than one unexpected guest. First Lisa Vanderpump and husband Ken arrive even though they swore they wouldn't. Plus 15, but did anyone really believe they wouldn't be there after all the hype. 
The more surprising guest was Adrienne Maloof and her boy toy, whom Brandi appears to covet. The best response to their arrival was Kyle's as she wondered who would come through the door next? Eddie and LeAnn? Plus 32.
Brandi's prepared for anything as she explains in this The Real Housewives of Beverly Hills quote…
If anything goes wrong at the party, my plan is to be completed wasted so that I don't know what's happening because if you don't hear it and you don't see it then it didn't happen…like blackout sex.

Brandi
Yeah, there's a plan…
But Brandi just can't be happy with what she's got, she's always got to push for more. Honestly, after the hell she put Lisa and Ken through last season, I'm surprised they'd even speak to her, never mind expecting them to forgive Brandi on her time table. Minus 30.
It gets even worse at Lisa Vanderpump's charity event at PUMP where Brandi pulls whole branches off one of the trees to offer Lisa an actual olive branch. Minus 17. I'm sure Lisa paid a pretty penny to have those trees in the middle of her restaurant. Needless to say, she was not amused. 
Brandi continues to beg for attention by asking Lisa to lunch the next day. When Lisa says she needs to think about it, Brandi responds by asking if she'd rather she eat Lisa's pussy. To Ms. Vanderpump's credit she barely looks flustered when she passes on the offer. Plus 43. She's simply dealt with Brandi's ridiculous responses for too long to be surprised.
Eileen Davidson isn't quite so jaded. When the conversation turns to cunnilingus at an afternoon tea, she's a little taken aback. 
What's up with Yolanda's constant whining about Lisa Vanderpump not inviting her to past events. Minus 13. Lately she's become boring and repetitive and I wouldn't blame Lisa for not inviting Yolanda to future events either. 
Lisa Rinna was kind of a hoot as she prepared for her hosting job on Access Hollywood. She's so open about doing everything possible to look "fresh as a f**king daisy" to keep her career going. It's both amusing and refreshing. Plus 20. 
Then there was Kyle who decided it was time to prepare daughter Alexia for the real world. Does anyone else find it sad that the girl is about to go off to college but doesn't know how to cook herself a meal or wash her clothes? Minus 33. I suppose that's the way life works when you grow up in Beverly Hills. 
Episode total = +17!                   Season total = -41!
You can watch The Real Housewives of Beverly Hills online any time here at TV Fanatic.
C. Orlando is a TV Fanatic Staff Writer. Follow her on Twitter.