Chicago Fire Season 3 Episode 11 Review: Let Him Die
Paul Dailly at . Updated at .
Well, that wasn't as deadly as it could have been.
All too often, Chicago Fire can be a really serious drama and the writers don't mind putting lead characters in jeopardy as evidenced on Chicago Fire Season 3 Episode 11.
Going into the hour I had to mentally prepare myself to lose another. Thankfully, both Mills and Brett managed to be saved - all thanks to Dawson.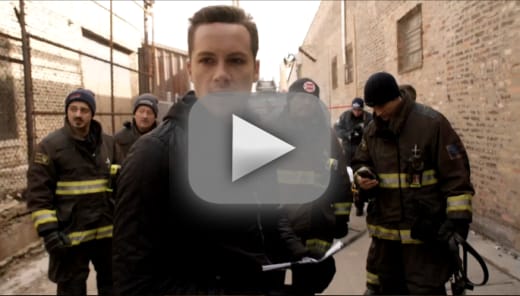 That's not to say the two characters didn't go through a hurdle or two before they were saved. In fact, they went through a lot. I was quick to say that Anthony Lulu was behind the kidnap. It was a shock when the the gunmen acted like they didn't know who he was. I'm sure everyone was as puzzled as I was!
One thing that grated on my nerves was the way the gunmen were driving. Surely if they wanted to take two hostages they wouldn't want to draw any attention to the car. What was their plan? Was it really to kill them both?
Brett: No way he lets us go.
Mills: He's not in charge.
My heart skipped a beat when Mills attacked the men in the car. The way the scene was shot, made it look like the entire top half of the car was cut clean off. This really was a dark, tense hour for the show.
Brett is still relatively new to the team, but it is evident that she is on a dark path. From the moment she wrote in blood that Mills should kill Vick, I knew something wasn't right. Could all of this have been brought on because of her predicament? I'm not so sure.
Don't even get me started about her contacting the crook she was oh so scared of Chicago Fire Season 3 Episode 9. Don't get me wrong, she is a very intriguing character and manages to fill a small part of the void left by Shay, but no one can replace her.
So... Dawsey has been rebranded again... to Dawson and Casey! Yes, the two of them are on a rocky road. Dawson has left the building; well Casey's building. This was a really mature move by Dawson. It is evident she and Casey are in love, but the two have been at each other's throats for a while and it's like they are constantly looking for a reason to argue and it's not healthy.
It doesn't help things that he is her lieutenant. It just doesn't seem fair for everyone else on the squad. It was nice that Dawson attempted to talk to him as co-workers to try and prevent it being awkward. Casey didn't seem to like it, but he's going to have to get used to it.
Casey: So, you're leaving?
Dawson: I just think we need some space from each other. Maybe that's the only way we can sort this whole thing out.
Casey: Sounds like you've already made up your mind.
It looks like we have another arsonist y'all. After I was comfortable knowing our friends at Station 51 were safe, they got called out to a fire, but it was on the second floor behind a shutter. When the shutter revealed all of the gas canisters and other highly flammable products, I started the nail-biting again. Then boom, a canister exploded, but everyone was still safe! Inside, the team found a news clipping about Shay. How shocking would it be if Brett was the arsonist?!
It was a pleasant relief that Boden and Donna's son appears to be stable for now. It was nice of the team to keep him in the dark about the Mills and Brett being MIA, all things considered, but I'm guessing he will still give them all in trouble when he returns to work.
"Let Him Die" was a dramatic, but tense episode. It rung in the New Year excellently and the show is showing no signs of fatigue. All of the storylines at the moment are intriguing and I can't wait to see were the second half of Chicago Fire Season 3 takes us.
Other bits from the episode:
How funny was it when Otis and Cruz were talking about Brett and Cruz had the idea that he could move in with her, then he finds out that Dawson is moving in with her. His face is a picture.
Casey punched a wall! He obviously saved all his rage for after Dawson left with her bags.
Herrman is an excellent friend to Boden.
It's beautiful how close knit all of these characters are.
I must give props to how Chicago Fire and Chicago PD manage to have all of the characters pop up in each show. It works so well.
What did you think of the episode? What will become of Dawson and Casey? How do you feel about Brett's path of darkness? Sound off below!
Remember you can watch Chicago Fire online right here on TV Fanatic! Watch the episode now to relive all the best bits!
Paul Dailly is the Associate Editor for TV Fanatic. Follow him on Twitter.