A stolen Van Gogh was the center piece of this week's case on Hawaii Five-0 Season 5 Episode 11. If you are a fan of art, this was a beautiful hour to watch.
However, noticeably absent was our beloved Danno. Despite the lack of his cheerful presence, I still managed to be thoroughly entertained..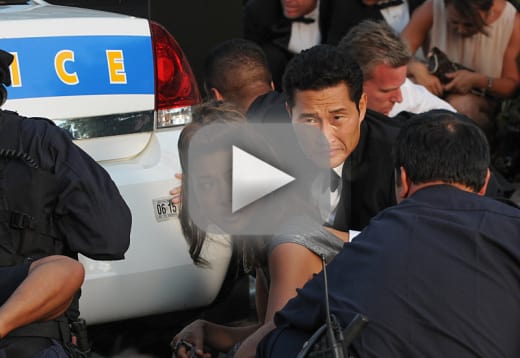 The real victim of the installment was the father, who only wanted to give his kids a trip to Hawaii, even after he lost his job five months ago. Say what you will about practicality and responsibility; the idea was cute and showed true devotion. 
I don't know how the thief did it, but sneaking the painting out on a carry-on bag was genius and would totally work; of course, you would have to get the painting on the plane in the first place. 
Once the investigation into the stolen artwork got under way, the story became a lot more interesting and a lot more complicated. The team was led to an art auction and a private party, during which Kono and Chin had to dress up and go undercover as wealthy art buyers. It was great seeing these two work together, especially when it feels like we often do not get to see enough of them. 
When the red-headed, dress-wearing, heel-sporting, art insurance agent Nicole got off that jet, the first thing that came to my mind was Sara Ellis from White Collar. Sara was the art insurance agent who fell in love with the thief, while trying to retrieve the stolen goods. Although, as the story developed the roles were reversed with Steve being the authority and Nicole being more of the law breaker. However, my hopes remained high that, like Neal and Sara, there would be some delicious chemistry between Steve and Nicole. 
I got even more excited when Willie Garson, White Collar's Mozzie, appeared as an art thief. He was playing the exact same character, although the Mozzie I know would not have fallen for Kono so easily. Yet that added to the fun of Willie being on the show. Am I wrong in thinking that Hawaii Five-0 was making a shout out to another beloved show? Let me know what you all think about this. 
The first big twist was a heist staged during an illegal art selling party. As is often the case with Hawaii Five-0, this was resolved in an expedient, yet violent, manner. 
I was glad to see Jerry had something to do, and I'm not ashamed at all to say I understood his Game of Thrones reference to the direness of the hostage situation. 
Jerry: The real question is how is he getting out? After that alarm went off this place is as impenetrable as the the Dread Fort?
Steve: What?
Jerry: Game of Thrones. Anyone?
Somehow, Jerry managed to be the person to save the day and bring the case to a close. He was crucial in breaking the jamming signal, exposing Nicole as a bounty hunter and in physically apprehending the suspect. Overall, a big win for Jerry. 
Was I wrong to think Steve and Nicole had some chemistry at the end when they were seen standing in front of that private jet? They both hold some uncommonly bold jobs and I thought that gave them potential. Right after Nicole's plane took off, Steve got a call from Kono telling him the real mastermind was Nicole, who fooled the team and got away with millions of dollars in rewards. At least the paintings will get into the hands of their rightful owners and the art is safe. 
Again, it may just be me and my wishful thinking, but I think Steve met his match in Nicole. Kamekono's story went a lot differently when he won the cooking competition, although not without a little sabotage. 
What did you think of "Ua'aihue (Stolen)"? Did you think Steve and Nicole had chemistry? Did you like seeing Chin and Kono work together? Did you have a favorite scene? Sound off on the comments below! 
If you missed this episode, remember you can watch Hawaii Five-0 online via TV Fanatic!