Sleepy Hollow Season 2 Episode 14 Review: Kali Yuga

Henry A. Otero at . Updated at .
Is Hawley gone for good? Nothing against Matt Barr, I like him, but the character was unnecessary and took screen time from Jenny/Irving.
Unfortunately, the issues plaguing this season are less character based and more about FOX's decision to go more procedural. Sleepy Hollow Season 2 Episode 14 is no exception, delivering a stand alone episode that felt disconnected from the original mythology.
I'm all for switching things up, but when a serialized drama is strong you don't fix what ain't broken. I can't blame fans for bailing.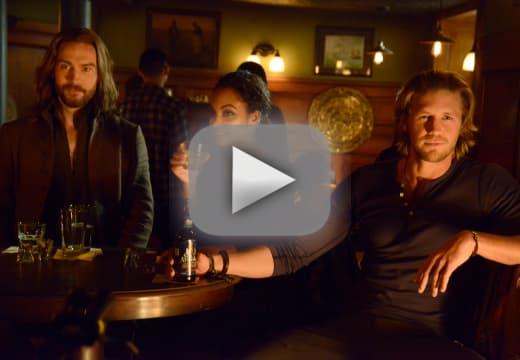 Karaoke was fun enough. I was more impressed with Nicole Beharie's pipes than Ichabod trying to amuse us. Who knew that girl could sing?
There were several mentions of Abbie and Crane spending less time together. Did you notice that? Was it a wink to the audience, telling us the writers realize they've screwed up and plan to course correct? The chemistry between Beharie and Mison has always been magical, why drop it?
The sisters had a moment to bond and Crane dismissing Hawley's presence was great. He never liked the guy, bet he won't miss him.
Ichabod: The lieutenant and I made our peace.
Jenny: Okay good. It just seems you two have been spending a lot less time together lately.
I found the Carmella/Hawley relationship odd and rushed. Plus, when I heard this was a Hawley-centric episode I couldn't help but roll my eyes. Luckily, it wasn't as bad as I was expecting. Jaime Murray is always wonderful and made the installment tolerable.
We quickly learned the woman who raised Hawley after his folks died was a Vitala (that's ugly ass monster to you and me). I could understand robbing the vault for an artifact that would make her human again, but why turn Nicky into one of those creatures?
Nick had never seemed particularly loyal to anyone this season, so it was nice that he stood by his Godmother. Too bad she had evil plans for him.
Claws secreting acidic venom; Vitala. An undead human being of Hindu lore that serves Kali, Goddess of death and regeneration.

Ichabod
Trust was an ongoing theme this week. Ichabod finding Orion's mini-halo proved Abbie lied to Crane. The hurt on his face was painful. Of course, she explained it away at the end, but those little things stick with you. What about all the stuff Crane's kept from Abbie?
I enjoyed everything about Knox's vault and found the Sons of Liberty connection interesting. What a coincidence that HISTORY's epic mini-series aired at the same time. It was just good fun and reminded me why I used to enjoy this show so much. Star Wars trash compactor FTW!
Hawley put himself on the line this week for his friends. I thought it was selfless of him to agree to leave with Carmella if she spared Abbie. Come to think of it, I liked the guy more in his final episode than ever. I didn't see Matt Barr listed in any future episodes on IMDB; guess his time's really up.
There was the predictable Vitala fight sequence, and ultimately Jenny rescued Hawley. The minute I saw Carmella escape, I knew Nick would be going after her. That's right, Nick Hawley's hunting down the monster who raised him, and that's probably the last we'll see of him.
With Hawley's departure, Katrina getting less screen time and our witnesses working together again, perhaps the last few episodes will recapture some of the charm of Sleepy Hollow Season 1. As I mentioned at the top, I can understand why the ratings have dropped and fans are disappointed. Personally, I don't blame any of the cast as they're simply bringing the words on the page to life. Season 1 worked so well because a serialized mythology was well planned over 13 episodes. I'm hoping if the show returns for a third season the writing team learns from their mistake and gets back to the mythology and core characters fans fell in love with.
Perhaps we both decided it was easier to act, than to talk.

Ichabod
The final scene of the installment proved Frank Irving is not under Henry's control; he's also got no reflection. Does that make him a vampire?
What did you think of "Kali Yuga"? Are you sad to see Hawley go? Will Abbie and Ichabod work better together moving forward? What's the deal with Irving? You're up Sleepyheads, hit the comments and share your thoughts with me. Look for our Sleepy Hollow round table later this week.
Miss an episode or want to re-watch tonight's? Remember you can watch Sleepy Hollow online via TV Fanatic.