The Mysteries of Laura Season 1 Episode 12 started off with Laura "interrogating" a barista because he shortchanged her.
We've all wanted to chastise someone who has done this, but Laura definitely took it a step further when she took her gun out while searching for the receipt.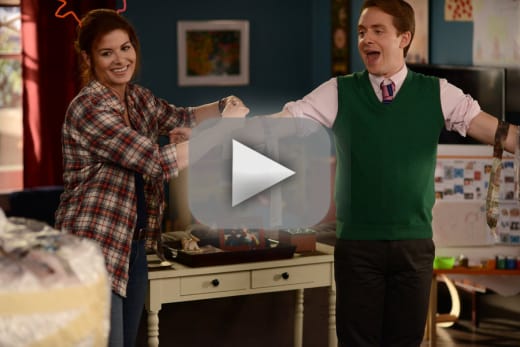 The great thing about The Mysteries of Laura is they can start off the show with such a lighthearted scene and move into a heart pounding scene in the blink of an eye. The mom Gloria screaming for her child outside the apartment complex as it was burning down was a nail biter.
Laura not wanting to take part in the kids' winter carnival doesn't come as a surprise. This is a woman who is a workaholic and already has the stress of taking care of the boys; but, nope, Jake had to go and sign them both up it. While Jake had the more caviler attitude towards skipping the carnival, Laura's thoughts were pretty on par with how the other women would see her. 
Laura: I can't back out. Half the school gave me the cold shoulder when I flaked on that Halloween thing.
Jake: We were busy with real police work. Nobodies going to blame us for that.
Laura: No one will blame you! Dad's get a free pass. No one will judge you if our boys are eating gluten or high fructose corn syrup or dirt.
Can we all just thank Max for the perfect description of Pinterest? From now on I will be describing it exactly how Max describes it.
If Martha Stewart and Rachel Ray had an orgy at the craft store and posted photos online, pinterest is their beautiful love child.

Max
Jake's ex, Angela, coming into the office definitely threw a wrench into things. Did anyone else want to scream, BACK OFF, when she was being friendly with Max? Though she did seem to fit in perfectly well when she joined the team to investigate the arson at the complex. It was a little on the odd side seeing Jake discussing the case with Angela; it's just weird not seeing Laura in front of Jake's desk telling him how to do his job. 
We all knew Laura couldn't stay away for long – remember, she is a workaholic people! Though I do agree with her methods of getting the things she needs for the boys carnival – going through the newspapers and getting the packing peanuts for fake snow was genius. 
The only issue I had with Laura being around the office was the crazy jealously she had over Angela – I don't get it. She told Jake on The Mysteries of Laura Season 1 Episode 11 he would have to change for her to even venture taking him back and she even started a relationship with the food truck guy, Tony – so why the sudden jealousy? 
Speaking of Tony, I loved Laura for calling on him to help her with cookies after she burnt the batch she was making. I am really starting to warm up to him and he really is the man she needs in her life right now. Tony seems to help Laura clear her head and doesn't fight her as much as Jake usually fights her, but I can see her getting bored extremely quick.
It's official! Max and Laura's friendship is my favorite thing ever! Both of them gossiping about about Angela, but also discussing the case is the reason these two are the perfect friends. You just can't help but love Max.
Why do suspects always run? Seriously! If you were innocent you wouldn't be running, yet there goes Jasper running across the roof. It really only served for Angela to show off for Jake – granted it was a pretty awesome jump she made.
Jasper: I did not start that fire, I swear I'm innocent.
Jake: Of course you are! That's why you were doing wind-sprints across the roof.
Angela's tactics regarding the interrogation of Jasper were a little on the unethical side, but I understand why she would use her lighter to get information out of him; though Laura is the better detective. Laura knows how to read suspects and she was trying to help out with the case, but noooo Angela had to go and get defensive. 
Did it surprise anyone when Max put his cell phone underneath the table so Laura could listen in on Gil's interrogation? I am also pretty sure Laura has figured out a new way to solve cases thanks to her kids' Legos!
In the end, the story came together with a surprise twist – Gloria's son Shawn being the one who accidentally set the fire. I was actually surprised by this and was really thinking Gil was the one who started the fire to get more recognition. You couldn't help but feel sympathy for Gloria and even for Shawn – the poor kid didn't realize what he was doing. It was a heartbreaking, yet beautifully written, story.
Oh! And damn you Angela for making me like you a little bit! The heart to heart she had with Laura and explaining she wanted Laura's approval made perfect sense – she is the mother of Jake's kids. Granted, it is clear from the previews for next week Laura and Jake may be very much back on!
What did you think of tonight's episode? Were you surprised by who set the fire? What are your thoughts on Laura and Jake getting back together?
Don't be left behind! Go watch The Mysteries of Laura online now via TV Fanatic! Catch up with the rest of us and discuss the show!
Samantha McAllister is a staff writer for TV Fanatic. Follow her on Twitter.