Arrow Post-Mortem: Oliver's Decision, New Pairings to Come and The End Of Olicity?
Jim Halterman at .
That, my friends, is how you do a cliffhanger.
On Arrow Season 3 Episode 15, viewers were treated to non-stop intense action, as the team tried to save Malcolm Merlyn.
Elsewhere, relationships jumped to a new level with Ray and Felicity... Thea offered herself up to Nyssa to kill... and, instead of finally slaying his nemesis, Ra's al Ghul offered Oliver his role as head of the League of Assassins.
Once you wrap your head around all that, there's much more ahead when Arrow Season 3 returns from hiatus, as teased by executive producers Marc Guggenheim and Andrew Kreisberg - as well as actors Katrina Law (Nyssa) and John Barrowman (Malcolm) - during a screening of the game-changing installment this week.
Consider yourself SPOILER WARNED and scroll down for major scoop...
Season 3 Villain: The producers mentioned that Arrow Season 1 featured Malcolm as the big bad, while Arrow 2 had Slade. So they didn't want to follow the same trajectory for Arrow Season 3.
"For this year to have Ra's, who's presented as this giant malevolent force, but then to come up and basically offer the keys to the kingdom to our hero," Kreisberg explained. "It just felt like such a different way to go and a different relationship for Oliver to have with the villain."
Anyone else blown away by that turn of events?
Nyssa: "Nyssa is pleasantly surprised," says Law about the news that her father has offered Ollie everything that was supposed to be hers. How much of that decision is really about Ra's disapproval of her relationship with the now-deceased Sara?
"From Nyssa's perspective it has everything to do with Sara, from Ra's perspective maybe, maybe not," said Guggenheim cryptically.  But the Assassin is finding herself in unchartered territory.
"She was so dead set on who she was, what she was going to be, how she had laid out her future for herself, then everything's been thrown up in the air," Law added. "She's, essentially, at this point in the story lost everything and I think for the first time in her life she is vulnerable and she feels weak, and she feels useless and doesn't know where she stands or who she is at the moment."
Sara's Memory: Sara Lance may no longer be with us, but Law was asked about the flashbacks where she returns (or in Laurel's recent vertigo haze) and why they are still important:
"I think any flashbacks to the Sara Lance character is always important for the Nyssa character because it's one of the reasons why fans like Nyssa, is the relationship to The Canary and the love story, and how loyal she is to Sara Lance. I think one of the few people that Nyssa is able to relate, on a primal level, to that is Laurel just because it's a sister relationship, it's the female bond, it's all these different things that you just won't get through a man. I think she's one of the few characters that, actually, fundamentally understands Nyssa."
As for that bond with Laurel, watch for the two women to continue to form a bond, which we'll see play out in subsequent episodes.
The End Of Olicity? Felicity moved on from Oliver in a big way when she and Ray Palmer slept together. Why was that right at this point in time?
"For right now, Oliver has decided that, 'I can't do this,'" said Kreisberg. "And Felicity's not just going to sit around waiting for him. She's probably the most healthy of all of them. He's the one who's shutting himself down emotionally when he has this amazing person who's basically offering him hope and guidance, and friendship and love, and everything. He doesn't feel he deserves it and doesn't feel that that's what's best for her, whether she agrees with it or not."
On the other hand, there's Ray, who (shirt on or off) has thus far proven to be a pretty good guy for Felicity, right? Kreisberg said of Mr. Palmer: "On a lot of ways [he] is a real analog to Oliver, he's had a tragedy and he's trying to right by it but he's opening his heart to her…and he's Brandon Routh, how can you blame her?"
The A.T.O.M.: The producers didn't give too much away on what we'll see next with Ray Palmer's now-active alter ego, but it will prove challenging for Ms. Smoak. One question that came up is how will it be having a new hero in Starling City?
"I think [episode] 317 is definitely the episode you'll want to check out first, in terms of that question," said Kreisberg. "Obviously, it's not just the Felicity, Ray, Oliver love triangle that's in play, it's the fact that there's a new super hero in town and he's going to go about things in a very different way than the Arrow does. He's not a part of Team Arrow. Right now, he's just a very smart guy in a very, very powerful suit. Oliver's definitely going to have an opinion and the first instance of that will be episode 317."
Malcolm Merlyn: Team Arrow had been reluctantly working with the duplicitous Merlyn because of the threat of Ra's and the League. Now that things have taken a turn in terms of the offer to Oliver, where does that leave him?
"I think part of it is how it lays out for the rest of the year," said Kreisberg. "What Oliver is willing to do to end the threat of the League. Now, it's a different kind of threat because they're asking him to join up. As Malcolm tells him in a subsequent episode, he's not really asking. That leads to all sorts of interesting combinations and new paradigms…just because the death threat to Malcolm is gone does not mean that he's out of the equation."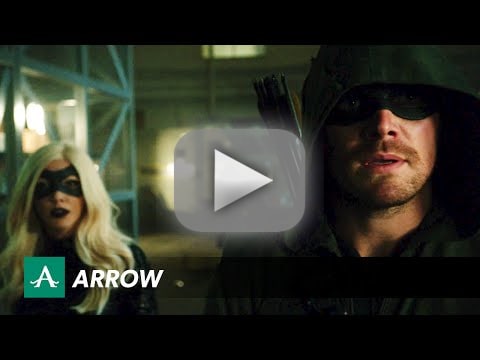 Barrowman explained that he's enjoyed playing the fearful side of Merlyn since the usually in-control character is well aware of what Ra's is capable of: "The one thing that I've read with people who have, in a way, I say fallen for Malcolm [is] the best compliment that they give me, and they say to me is, 'Oh my God, we hate you but we love you.'"
The actor added how "these guys write it to show that emotional side to him because that's what the fans then connect with to see that it's not just a villain, there's something right behind it. There's a reason to why he's doing it and there is a reason as to why he's scared, and you're finding out."
New Pairs: The producers are excited anytime they bring two people together in new and different ways. "So much of the fun for us writing this season has been John and Willa being together," said Kreisberg. But what about Barrowman and Katie Cassidy sharing a fight in this episode?
"Watching Laurel with more verve than skill think that she can, for one second, take on Malcolm is just another example that she's not the Black Canary yet," he added. "Sara might have gotten him but there's no way Laurel can, and yet again, she gets knocked down and she gets right back up again and that's what we really love about Laurel."
Thea: The young Queen has been acting on her own impulses since she found out that, while under Malcolm's influence, she is the one who killed Sara Lance.
"Certainly, with episode 15 that was Thea acting, maybe, at her most impulsively," said Kreisberg. "We're working towards telling a different story with Thea. It's not just always her acting out…she's processing a huge amount of guilt and a huge amount of regret. At the end of [the episode], she's essentially attempting suicide by Nyssa."
Of what we'll see moving forward, he added, "It's a continuing progression, it's not just going to be a repetition of her acting out, acting out. Certainly, in [Arrow Season 3 Episode 16] she looks for closure in another way, because - spoiler alert - this is not going to kill Willa Holland's character."
Ollie In The League?: While our first impulse is that Oliver Queen would never become a part of the League of Assassins, let alone be its leader, is there a way he could be persuaded?
"Ra's has an interesting perspective on that question, which you'll get in the first act of 316," said Guggenheim. "One of the things that we reveal in 320 is where the name League of Assassins came from and what it means to be an "assassin." If you're a historian, you'll know that it has a different meaning than just what it's become in the modern day."
In the next episode... "It picks up, literally, 10 seconds before the end of this episode, so we do one of our direct pickups. We catch you up a little and bring you straight into [episode] 16, like the way we did [episodes] 202 and 203 last year."
Of Oliver's reaction to Ra's offer, Kreisberg teased: "What Oliver's reaction to it is, what Nyssa's reaction to it is, what everyone's reaction to it is makes up the bulk of the next run of episodes and what his answer is, and what that prompts all the other characters to do."
Arrow airs Wednesdays at 8/7 on The CW and returns on March 18.
Jim Halterman is the West Coast Editor of TV Fanatic and the owner of JimHalterman.com. Follow him on Twitter.