Chicago Fire Round Table: A Heartfelt Speech
Paul Dailly at . Updated at .
Simply put, Chicago Fire Season 3 Episode 13 was one of the best of the series.
We received some crucial answers about the death of Shay, while also getting insight into her relationship with her sister, Megan. Oh, and we can't forget the Dawsey developments.
Below, TV Fanatic staff members Stacy Glanzman, Mary Kate Venedam and Paul Dailly discuss these developments and a whole lot more. Ready to jump in with your take?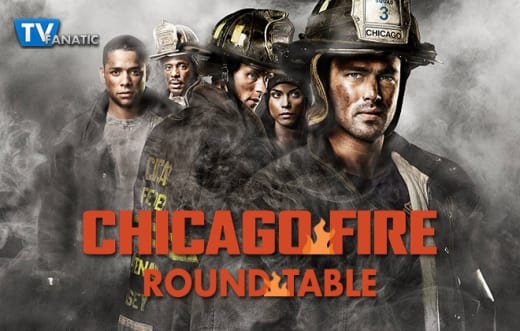 How did you feel about Adrian not being pursued about Shay's death?
Stacy: It was frustrating, but an obvious plot device to create a crossover with CPD. Though, considering how hyped the crossover was, it was another situation where it was only a couple of minutes of the episode.
Mary Kate: I agree with Stacy, it was really frustrating. The guy was seriously creepy and obviously caused Shay's death. But, I wish they could've combined the Chicago P.D. cast more than they did, considering how important the case was to them.
Paul: This was really annoying. It obviously set the scene for the story to continue on to Chicago PD, but the fact that Sevride and Dawson had proof, yet nothing could be done was a hard pill to swallow.  
Adrian could have caused the fire that killed Mills as well as Shay. React.
Stacy: Honestly I thought it was a little ridiculous. They killed Shay specifically for this arson storyline and now they're throwing Mills' dad into it too? Why couldn't they have had Severide find a news clipping of Mills' dad and let Shay live? We still could have had this exact same storyline and Shay didn't have to die.
Mary Kate: I'm still new to the show, so I didn't know that Mills' dad was killed in a fire, but seeing how affected he was by it, I knew it was a big deal. It's also creepy to see how long this guy was causing the devastating fires.
Paul: I agree with Stacy. It seemed a little off that this guy managed to get away with causing several fires and changing his identity several times. It was a little absurd, but it made for good TV.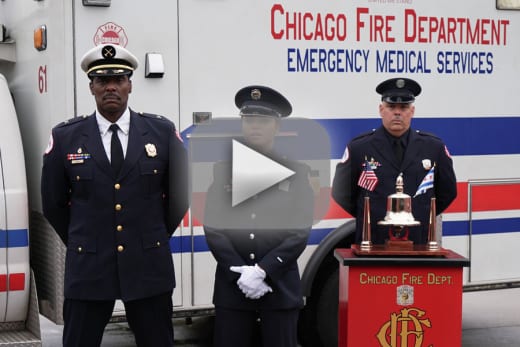 How do you feel about the Dawsey developments?
Stacy: When Dawson made the baby comment I was a little concerned they were going to get back together. It's too soon for that but I'm glad they talked and are at least in a good place with each other for now.
Mary Kate: I thought for a second that they may get back together while at that romantic dinner. It was nice though to see them re-start a friendship, rather than the passive-agressive thing that had been happening to them the past few episodes.
Paul: I liked them. As I've said on several occasions, the two characters have handled this in a very mature way. I still think they will reunite before the end of the season, but until then, I hope they can continue to be civil.
What's next for Papa Boden?
Stacy: For now he's still taking the medications to appease his son, but I don't see that lasting long. I'm not even sure he really took them at the end. Who needs to take medication in the bathroom? There's no way it takes affect that quickly. I suspect there will be conflict arising between father and son soon.
Mary Kate: It was sad to see that he was in so much pain for the medicine, but hopefully it won't affect the relationship between him and his son with his illness.
Paul: I'm guessing he will stop taking his medication at some point. It's such a sad time for the family. Sure, they just welcomed a baby into the family, but soon the patriarch will be biting the dust. 
What did you think of Gabriela's speech about Shay?
Stacy: It was sweet and heartfelt. I liked her comment that Shay would want them to represent her every time they go out. I loved that they dedicated the ambulance to her as well.
Mary Kate: It was sweet and, again, I never got to see the extent of Shay and Gabby's friendship. But, her speech really explained how close they were and how important she was to Firehouse 51.
Paul: I loved it. It was so heartbreaking and powerful. It accurately showed everyone exactly how Firehouse 51 felt in the wake of Shay's demise and also alluded to the future, which was also nice. 
Paul Dailly is the Associate Editor for TV Fanatic. Follow him on Twitter.